Lady Gaga a bâti sa réputation sur
le choc, comme en attestent son arrivée aux Grammys 2011 à l'intérieur d'un œuf
ainsi que cette fameuse robe de
viande.
[Photo : PA]
Elle semble pourtant avoir récemment mis tout cela de côté, ayant adopté un style plus classique.
La chanteuse a par
exemple opté pour une robe flottante classique lors de l'émission Royal Variety
Performance mardi, tout en prenant également soin de dissimuler ses célèbres
tatouages à l'aide de maquillage.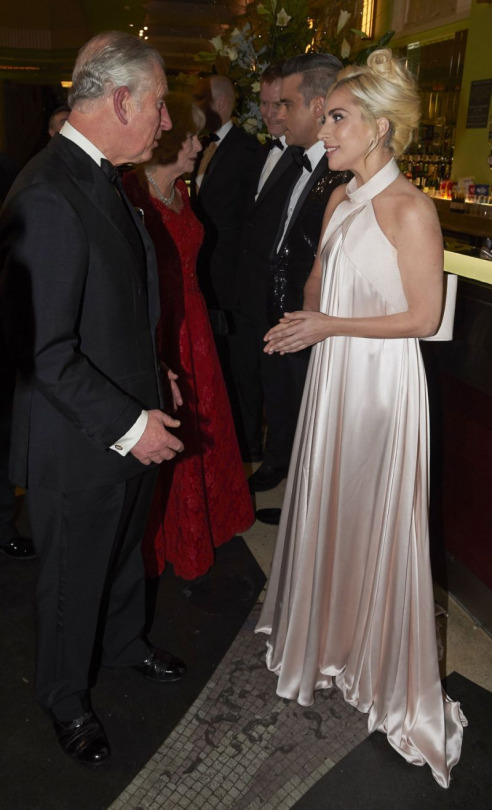 Gaga salue
la duchesse de Cornwall et le prince de Galles [Photo : PA]
Elle ne regrette
pourtant pas du tout ses œuvres d'art à l'encre et la star en a même ajouté 3 à
sa collection cette année, obtenant ainsi un total de 20 tatouages.
La chanteuse portait
une robe dos nu élégante Brandon Maxwell et avait opté pour un chignon chic et
un rouge à lèvres rose brillant et discret.
Le prince Charles et la
duchesse de Cornwall étaient présents dans la salle de l'HMV Hammersmith
Apollo lorsque Gaga a interprété la chanson A
Million Reasons, tirée de son dernier album Joanne.
Lady Gaga a déjà opté
pour des tenues Brandon Maxwell par le passé et portait même l'une de ses robes
noires flottantes plus tôt dans la semaine lors des British Fashion Awards, confiant
sur Instagram que B. Maxwell « savait vraiment comment créer des vêtements
impeccables agréables à porter ».
I loved going to the #BritishFashionAwards wearing and with designer @brandonmaxwell he really knows how to make impeccable clothing it's a joy to wear.
J'ai adoré mon expérience aux #BritishFashionAwards vêtue
et accompagnée par le créateur @brandonmaxwell il sait vraiment comment créer des vêtements
impeccables agréables à porter.
Nous sommes fans de ce look élégant
même si nous ne sommes pas contre l'apparition de tatouages non plus et que
Gaga mérite bien de porter ce qu'elle veut.
Alice Sholl