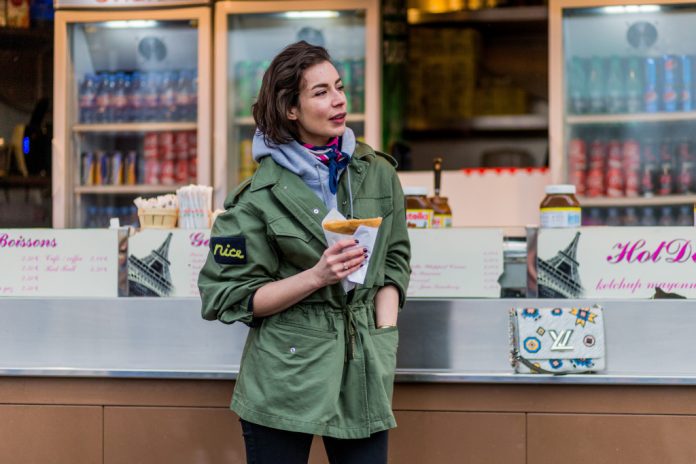 The 7 Best Food and Drink Podcasts Worth Listening to Right Now

Scroll To See More Images
Sometimes we all need a break from Spotify, or the news, or Snapchat, or the Kardashians. When those moments come, podcasts are pretty much the best things ever.
We've already explored which dating podcasts and Serial-esque podcasts are our favorites, but now we've compiled a list of our top seven food-and-drink-focused shows, where you can enjoy and learn something without feeling obligated to put that knowledge into action in the kitchen.
The Sporkful
Hosted by the Cooking Channel's Dan Pashman and put out by producers of other mega-successful casts such as Freakonomics and Radiolab, The Sporkful's tagline is that it's not for foodies—it's for eaters. Who can't relate to that? Recent episodes have covered marital disputes over food, fridge food thieves, edible cultural appropriation, and whether dumplings are overrated—there's something for everyone.
The Dinner Party Download
This cast, which has featured celeb guests from Scarlett Johansson to Anderson Cooper, is 60 minutes devoted to culture, food, and conversation of the sort you'd find at a dinner party with super-interesting people. It'll make you one of them.
Gravy
This biweekly show, produced by the Southern Foodways Alliance, has been hailed as one of the best under-the-radar podcasts, and is about storytelling in food, focusing on the American South as the taproot of American cuisine. One of the show's taglines: "What we eat is a window into who we are."
Let's Drink About It
This cocktail podcast pairs fancy drinks with life events, bringing in guests from the worlds of comedy, music, cocktails, and beyond to talk about their lives and which drinks pair best with certain life moments.
Spilled Milk
From frozen burritos to Korean junk food, on Spilled Milk, comedians Molly Wizenberg and Matthew Amster-Burton bring their humor to pretty much everything people consume—and it's pretty hilarious.
America's Test Kitchen Radio
Based in a real, 2,500-square-foot test kitchen outside of Boston, dozens of cooks test recipes dozens of times—and hearing their reports (in addition to conversations about cooking as a concept, cultural force, and more) on this podcast are 100% fascinating.
Bite
This brand-new podcast from Mother Jones focuses on food politics, explores vegetarianism, tipping, and mystery meat. While the show says it's for people "who think hard about their food," we don't think you have to be a philosopher to appreciate this smart, interesting show.