Putting together your wedding photos short list ? Here are some pretty picture ideas you might want to include. Your bridesmaids are you best friends, your sisters, your everyday supporters, so why not have a few photos with them in your wedding album. Our gallery of must-take photos has been created to help you pick a few creative moments to capture.
48 Must Take Wedding Photos You Don't Want to Miss
From getting ready on wedding day morning and putting on the wedding dress, to the afterparty, we have collected amazing must-have photo ideas that you should share with your bridesmaids and of course wedding photographer. Which one is our favourite? I guess you'll have to keep reading and see…
Getting Ready On The Wedding Day Morning
Most brides agree that this is the best way to start your wedding day preparations. Instead of each bridesmaid getting ready on her own, why not do it together. Hiring a makeup artist to one place will ensure everyone looks fabulous and doesn't break the budget. Your wedding photographer will have plenty of opportunities to capture the fun moments.
On the Bed
Don't forget to capture all the moments before you walk down the aisle with your girls. You really can't have enough getting ready shots, including this classic snuggled-up-on-the-bed pose.
Your Dress
Granted, you'll have about 100 wedding pictures of you in your dress, but a still life lets you preserve it in your memory just like the first time you saw it — a beautiful piece of wearable art.
Jump for Joy
Getting married doesn't mean you always have to be an adult, right? There's nothing like carefree innocence. Throw it back to your slumber party days, and jump on the bed with your best friends in excitement for the big day.
Your Rings
You'll actually want two shots. One alone, against your dress, for a high-fashion look, and one of your two rings together, to symbolize your new union.
Beautiful Back Details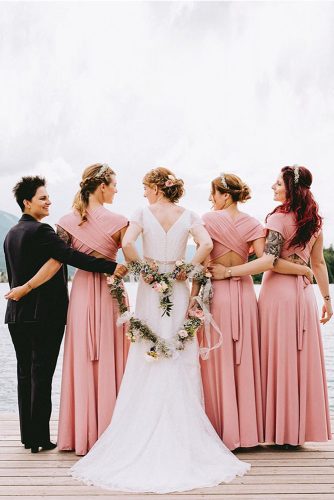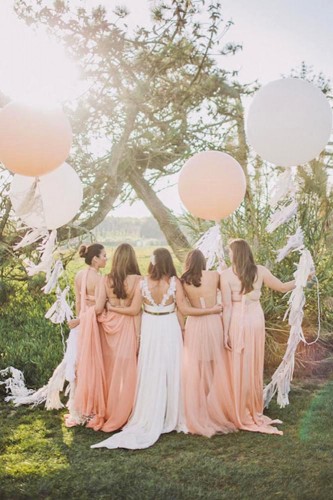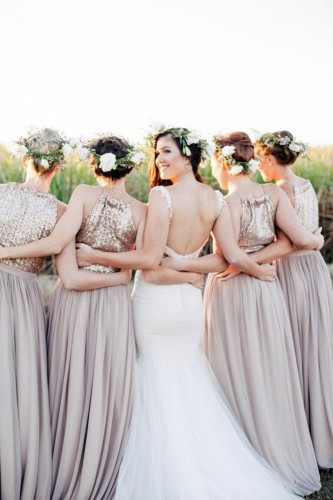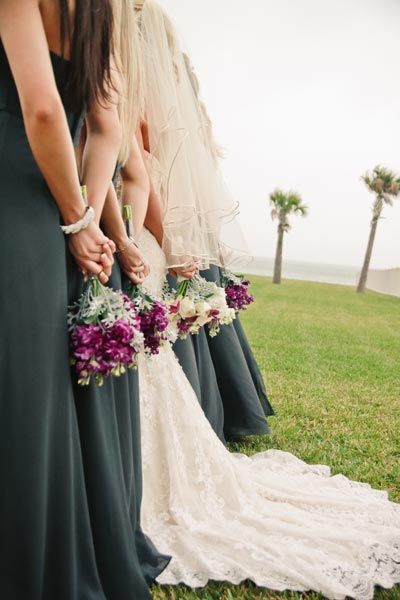 Wedding dresses and bridesmaid dresses have gorgeous back details, so why not photograph them! You can show off your matching bouquets or use photo props like giant balloons. This is also a perfect shot to capture the gorgeous wedding dress train.
Mirror, Mirror
Primping time isn't fun without your girlfriends, and it isn't done right without their helping hands. Whether they're taming flyways or adjusting your jewelry, document all those behind the scenes moments. Use a mirror to your advantage for creative photo options.
A Little Bit Of Fun With Signs
Chalkboard signs are a fun way to capture your relationship to each of your bridesmaids. You can DIY them or pick up a set. These wedding photos would certainly bring special memories to your wedding album.
Slipping on the Garter
Sliding on the garter can be a little difficult if you have to battle a lot of tulle, but that's what
your posse is for
.
Pinning the Veil
The final touch to getting ready, fastening the veil is a sweet moment you'll want to capture. Besides, you'll want a close-up of the veil's pretty details.
The First Look In The Mirror
After long struggle of putting on the dress, this creative wedding photo captures the bride finally admiring the dress and the reaction of the bridesmaids.
First Look
Capturing the look on everyone's faces once you're all dolled up is priceless. Pre-ceremony emotions are ones you'll cherish forever.
The iPhone Shot
We are in the age of technology, after all. It's only fitting to get a snap of the bridesmaids documenting your stunning debut via iPhone — a modern take on the first look.
Elegant Bridesmaids
You and your bridesmaids had spent a lot of time getting ready. Don't forget to get a few wedding portraits with your gorgeous ladies.
Popping Bottles
All those hours of primping and prepping are hard work! Add a bit of fizz to your morning with a champagne splash.
Cheers
A toast to the bride — and those who helped make her day so special — is definitely in order. The circle effect created by the from-below angle not only makes for a unique shot, but focuses attention on what's at hand, literally — the bubbly.
The Selfie Shot
Of course you've got to gather your squad for a selfie, but make sure your photographer is there to capture the selfie in action for a fun twist. What better way to capture the genuine happiness around you and show off the beautiful results of all that primping?
Nothing Wrong With Acting A Little Silly
Now that portraits are done, you can act a little silly because this tensions isn't good for anyone.
Out the Window
The perfect last dressing room memory, this moment is a metaphorical adieu before your girls send you off to your groom. Looking out the window symbolizes looking to the future ahead — or it can just be a way to spy on guests as they arrive.
Abbey Road
This stunning candid shot reminds us of a bridal version of The Beatles' « Abbey Road » cover. Think of it as the "artsy photo" for your wedding album.
Hiding Behind Flowers
Just like the photo from the back, this is another popular idea. Showcase your matching bouquets and your gorgeous dresses.
The Shoe Shot
The dresses often steal all the credit, but what's a girl without a pair of killer shoes? We love how this line up draws attention to fabulous pumps without distracting from the girls wearing them.
A cropped pic of your shoes (and fun socks!) gets an update by being casually posed.
Wedding Photos With Best Friends Ever
Your maid of honor deserves a few pictures just with you. This idea captures the true feelings and the emotions between the bride and her MOH.
The Behind Shot
This serene and peaceful snap says, "we have each other's backs." Not only does it capture a moment of reflection, but it's a great way to show off your train and the back of the bridesmaids' dresses.
Perspective
In need of a backdrop? That's what your bridesmaids are for. Distance and space bring a whole new perspective — literally.
End of the Night
The Exit
A classic « just married » shot is a perfect ending to your album.
The Getaway
Whether you have a sparkler send-off or something more low-key, a good-bye shot is yet another way to close your album.