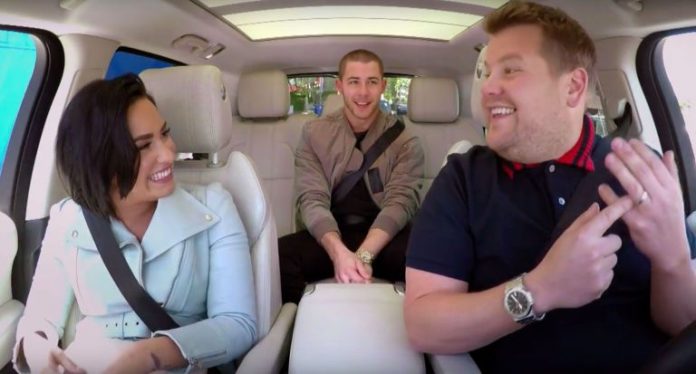 Watch Demi Lovato and Nick Jonas Nail Carpool Karaoke (and Talk About Nick's Ex-Girlfriends)

Demi Lovato and Nick Jonas teamed up for an epic ride of carpool karaoke on The Late Late Show with James Corden and while we got plenty of hits— Demi's song "Heart Attack," Nick's "Jealous," and DNCE's "Cake by the Ocean," which, FYI, is about getting busy on the beach, we also got some intel on Nick's sex life.
"So Nick you're dating seemingly everyone, and then who else?" Corden asked, noting the glaring absence of his once-famous purity ring. Nick answered, "I had a real relationship with an adult and I fell in love actually and I decided it was time for me to take it off." And that adult we can speculate is 37-year-old Kate Hudson. Or maybe he was referring to his relationships with Miley Cyrus and Selena Gomez.["He dated] Miley and then back with Selena and then back with Miley," Demi said, although Nick denied it.)
And if this all wasn't enough the whole thing ends with the trio exiting the car to busk the L.A streets — tips appreciated.