50 Do-It-Yourself Birthday Cakes For Little Girls
If your little one's birthday is creeping up and you want to create something from the heart … with your hands … why not try creating a beautiful cake just for them? From icing tricks to beautiful recipes, we're sharing some DIY ways to do so. Princesses, modern styles, and even a  bit of glitter can brighten a special gal's big day. 
Every girl loves something different, but the common denominator is that the cake has to be delicious. So, let's check out all these recipes. 
Birthday Cake Ideas for Girls
1. Double Chocolate Bundt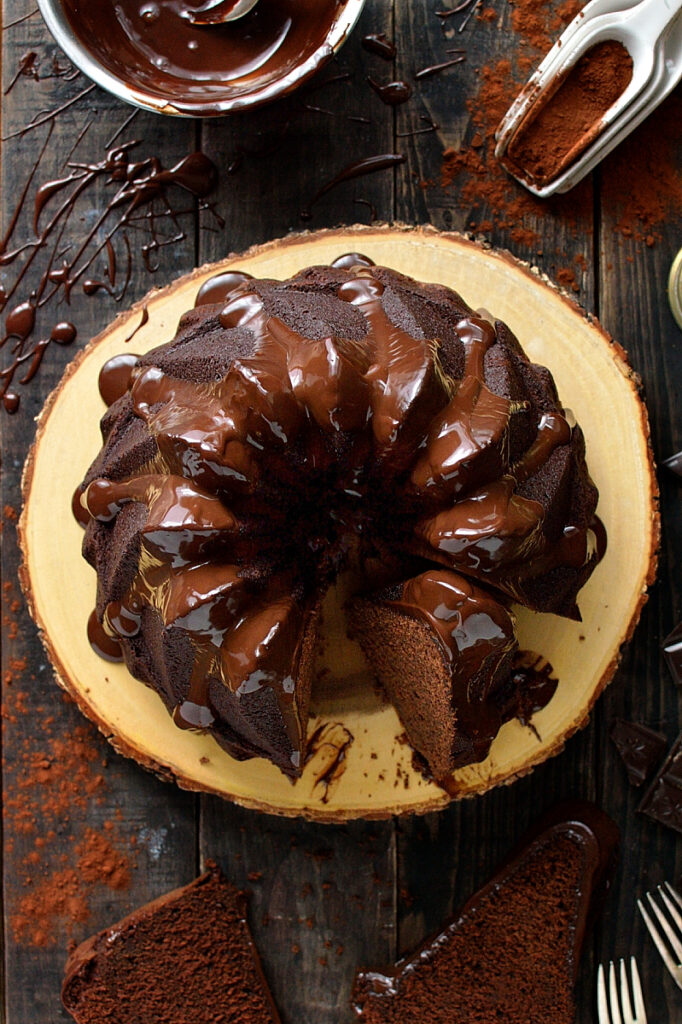 Ok, sure, this recipe will work for anyone and everyone, but it's absolutely delicious and you should definitely give it a go. So much yummy chocolate! Get our recipe from here. 
2. Carrot Cake with Cashew Cream Cheese Frosting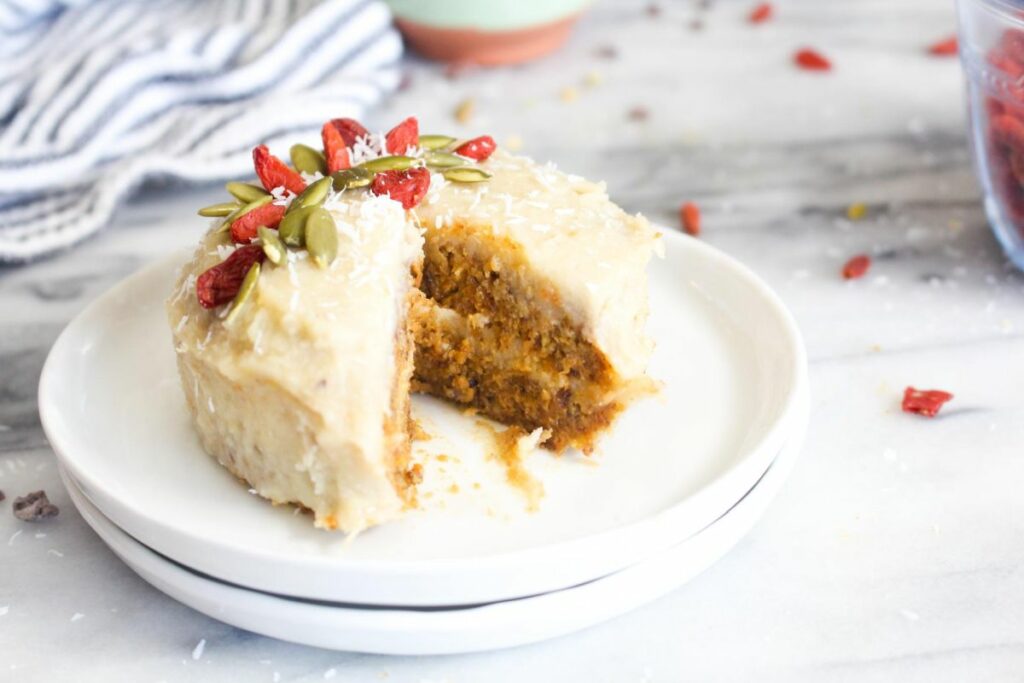 This particular recipe is perfect for younger girls, especially if you don't want to give them too much sugar. The recipe is just perfect and it will go wonderful especially for smaller gatherings. Get our recipe from here. 
3. Fondant Cake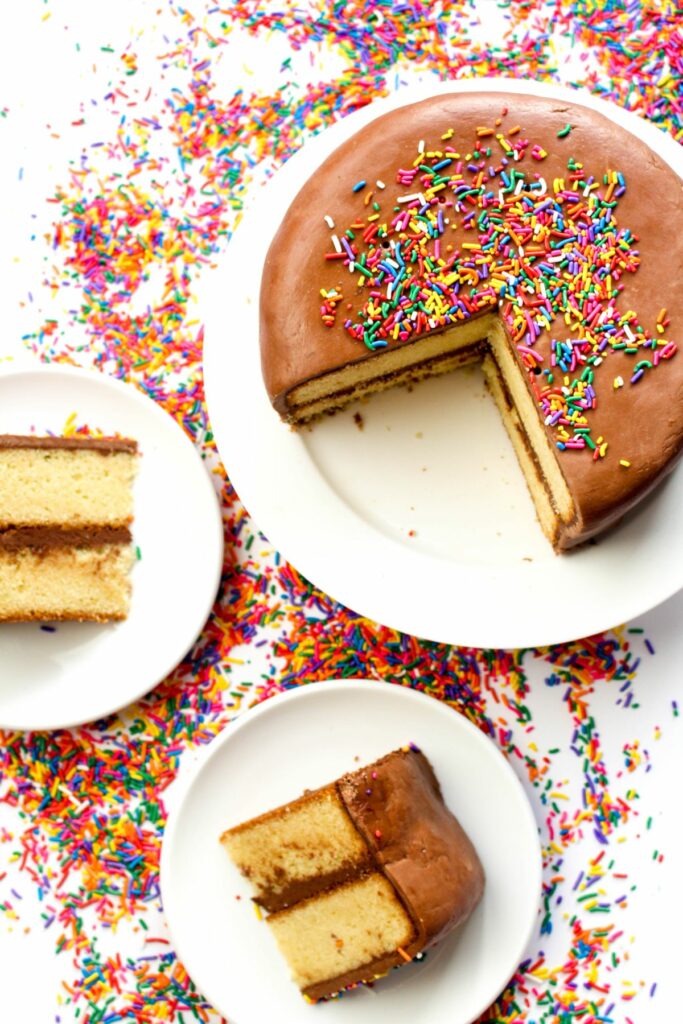 Fondant cakes are notoriously complicated to make, but they're absolutely worth it. With a few tweaks, the cake can turn whatever color you want it to be. Get our recipe and in-depth instructions from our recipe here. 
4. My Little Pony Cakes for Girls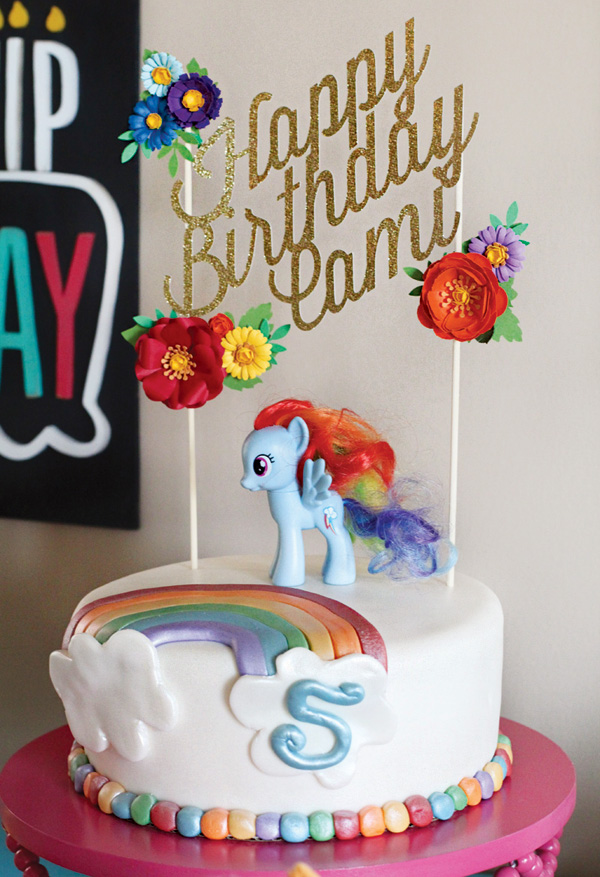 This cake is all about the fondant. Bake a classic cake and then try your hand on cutting easy shapes and covering your layer with fondant – which is easier than you may think. Of course, the pony and topping embellishments helps too. We found the idea on Hostess with the Mostess.
5. Butterfly Art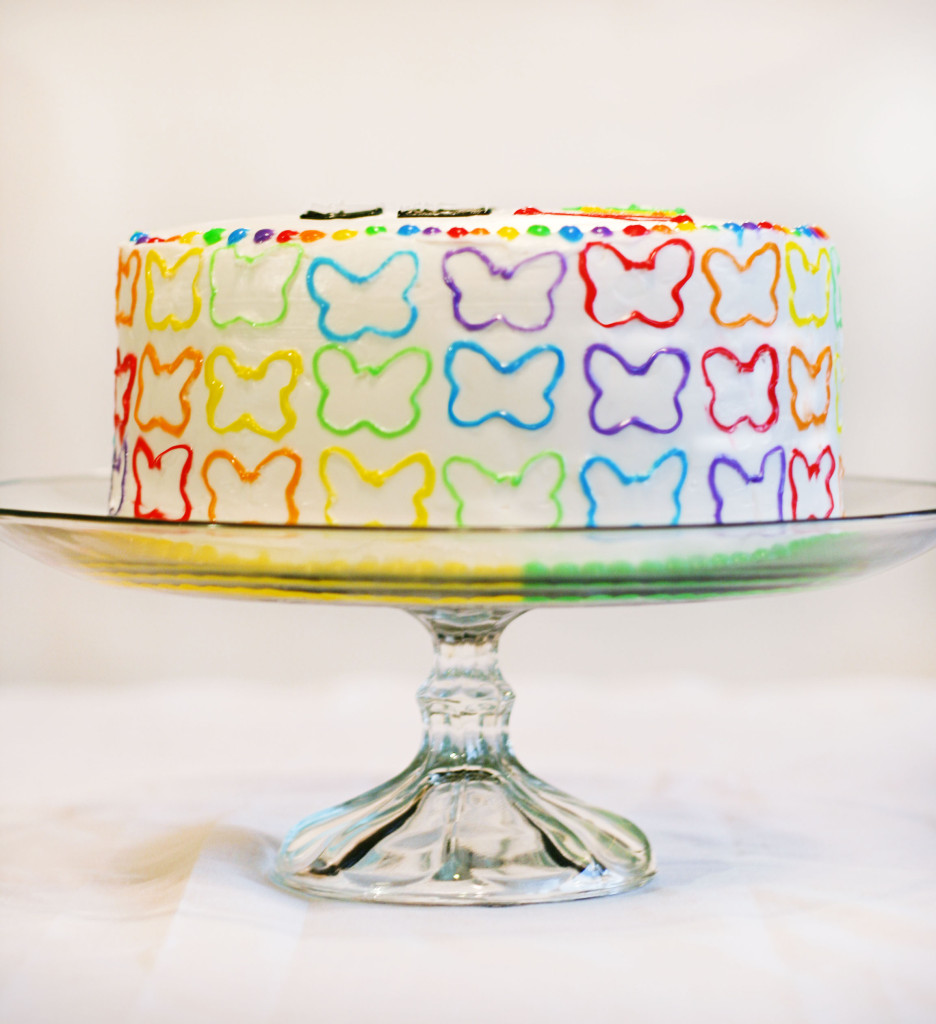 If you're really good with icing, you can grab some gels and create easy, butterfly outlines all around your little one's cake. It's quick but it's still very festive and fun with its color and youthful spirit. Check it out on Wedding Cake.
6. Disney Princess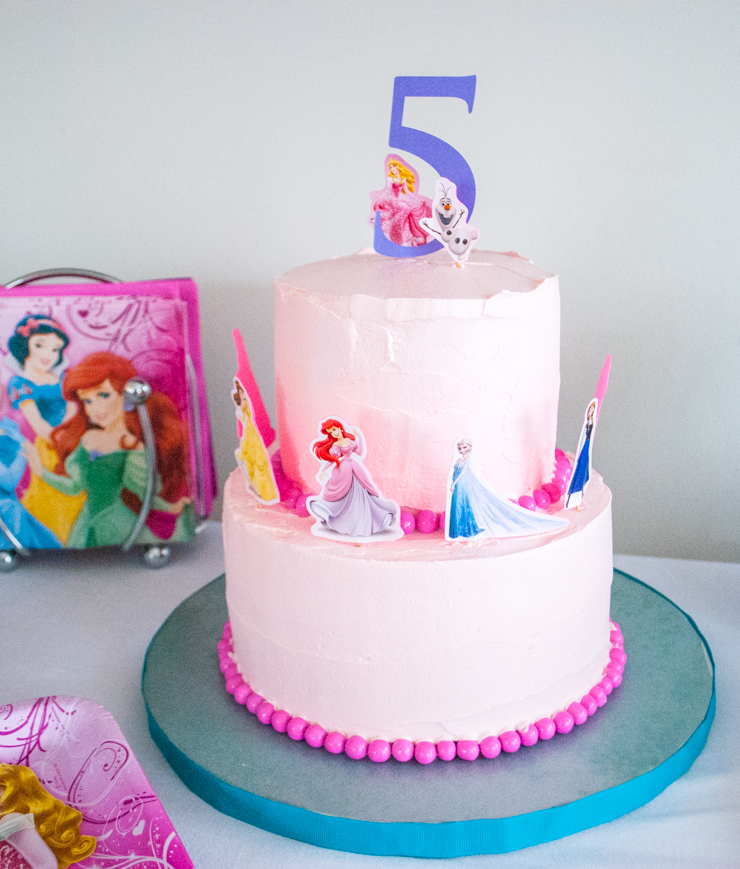 Bake your cakes, layer them up and ice them to perfection. The key here are the princess embellishments that are just make from simple sticker sheets! How easy can it be?! This really cute idea was found on Merriment Design.
7. Glitter Neco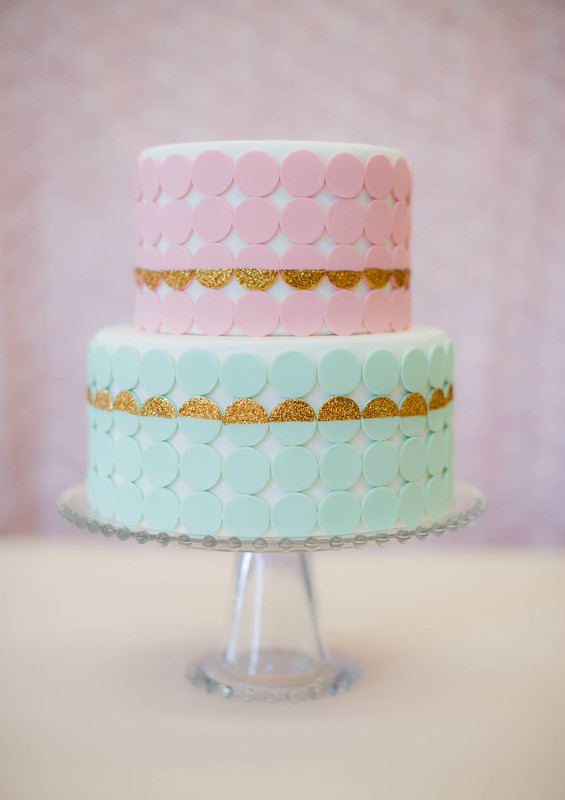 Use classic, candy Neccos to embellish you beautiful birthday cake! And make sure to add some glittering gold for a bit of modern style. A grown up cake for your growing girl could be the perfect addition. We found the recipe on Project Wedding.
8. Pink Ruffles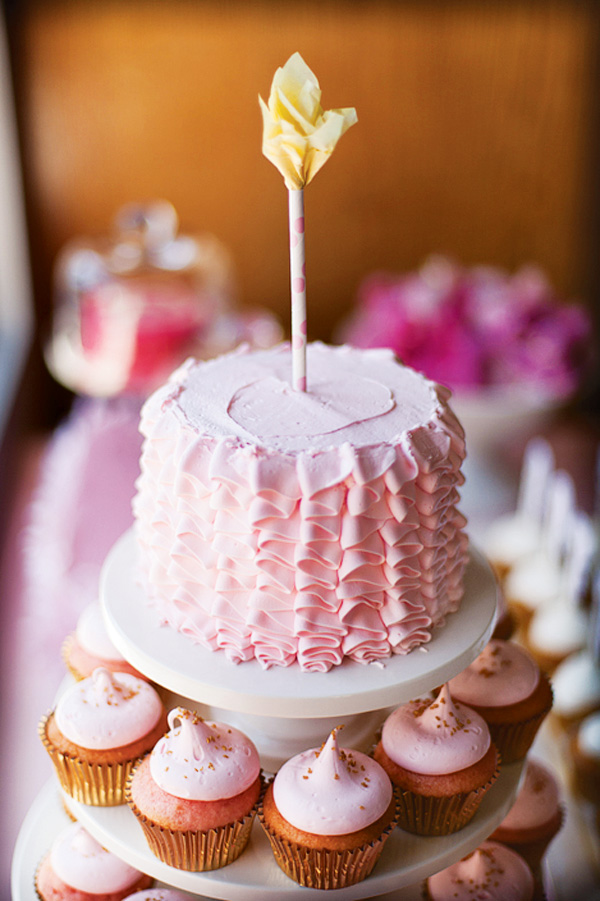 Other times all you need are some skills and tricks to learn when icing the cake. Just look at these sweet and charming ruffles that could really make a beautiful impression. Check it out on Hostess with the Mostess.
9. Hot Air Balloon as Baptism Cakes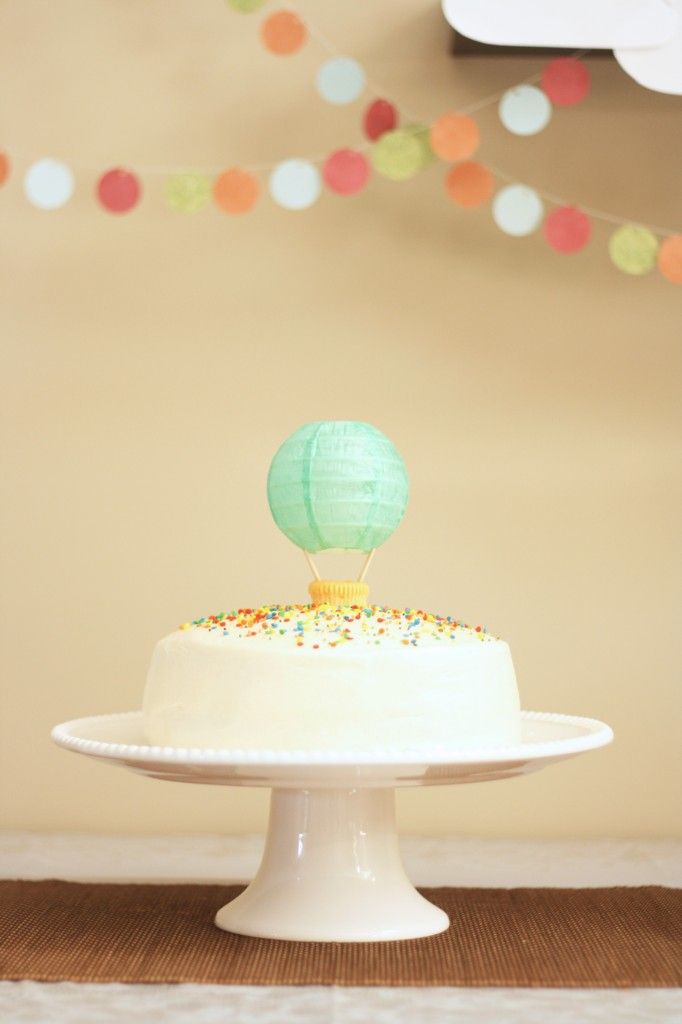 Whipped, smooth icing, sprinkled topping and an adorable hot air balloon on top. The magic here is in the topper and we're in love with the simplicity but also creative flair. This cute cake was found on We Follow.
10. Sprinkles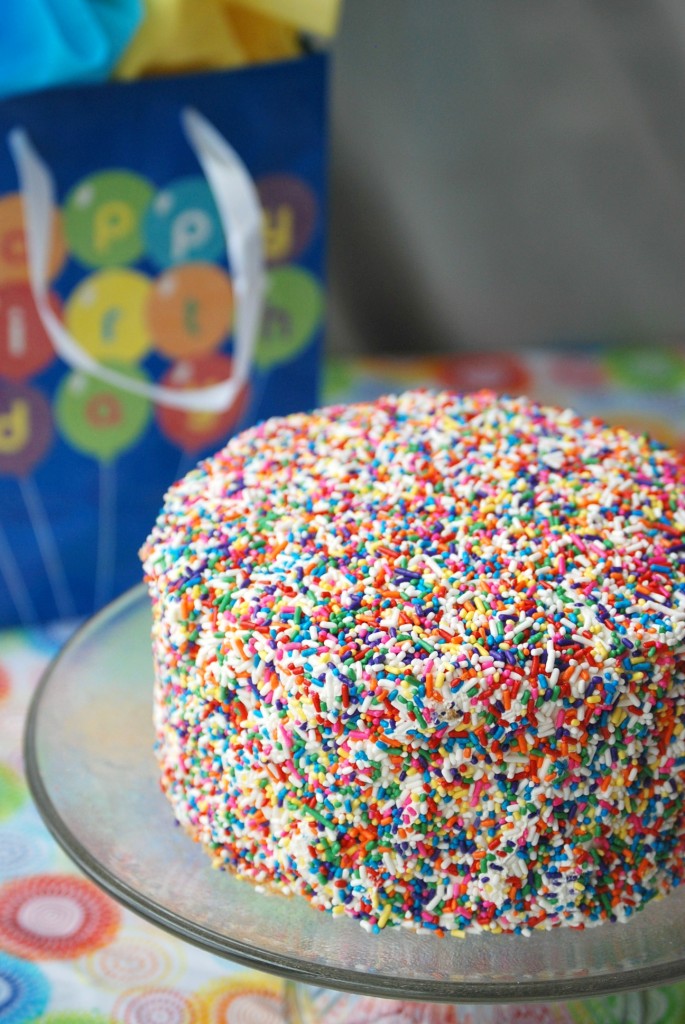 Of course, for extra bits of festivity you can completely cover the cake in sprinkles. It's youthful and one of the easier ways to decorate with your a novice in this department. Get this cool idea from Endlessly Inspired.
11. Ombre Flowers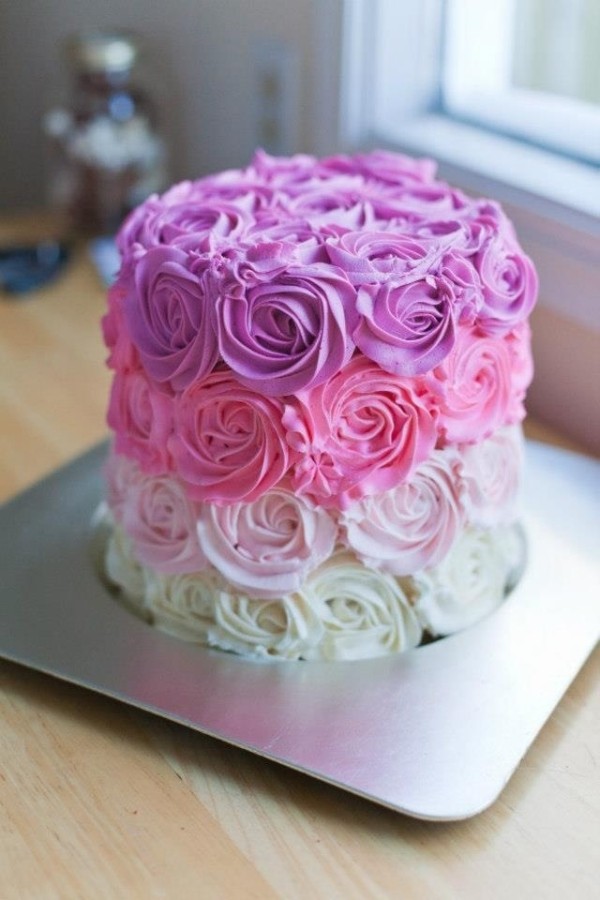 Do you have a knack for food coloring? That's where the magic begins with this design. You'll also need to learn the right flick of the wrist for creating icing rosettes! We found this recipe on Food Ideas.
12. Balloon Topper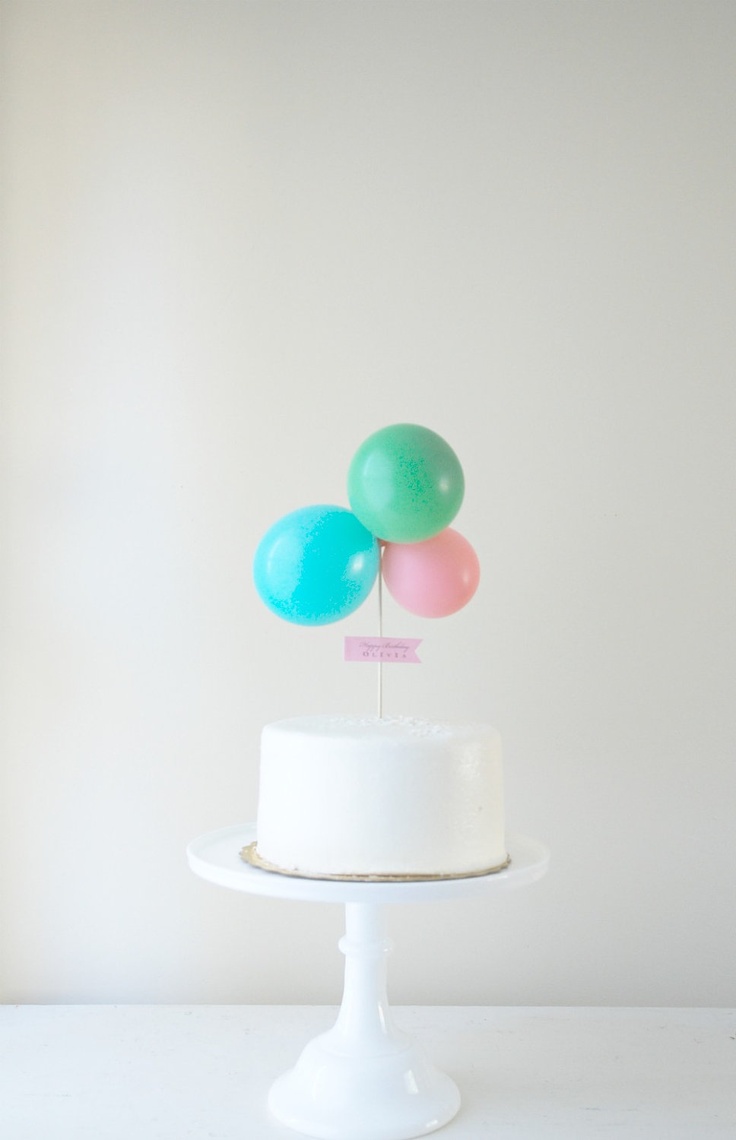 Like we see above, sometimes the beauty of a cake design is all in the topper. And this easy, modern style is perfectly versatile for a variety of birthday themes. This super cute idea was spotted on Pinterest.
13. Ballerina Girl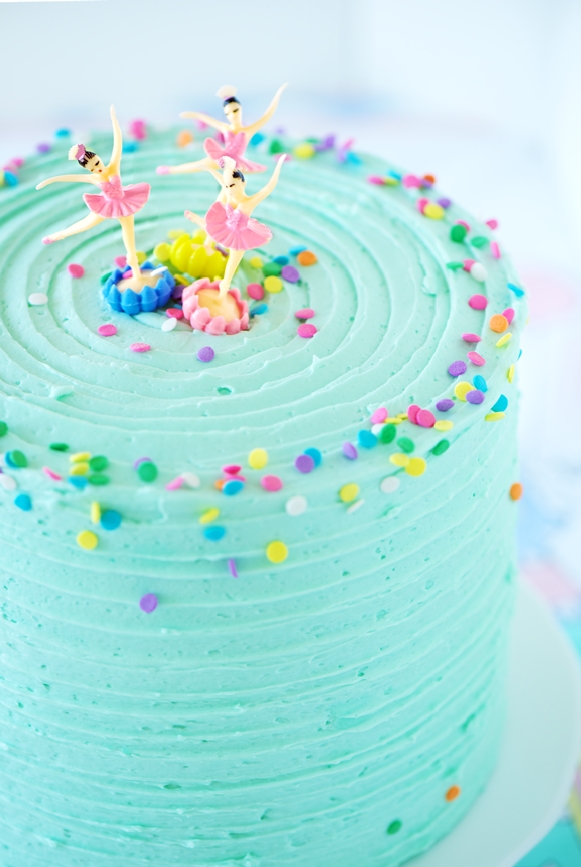 A beautiful, seafoam foundation, sprinkled accents and dancing ballerinas atop. We're in love with this whimsical and classical girlish birthday cake! This uber cute recipe was found on Sweetapolita.
14. Sprinkle Heart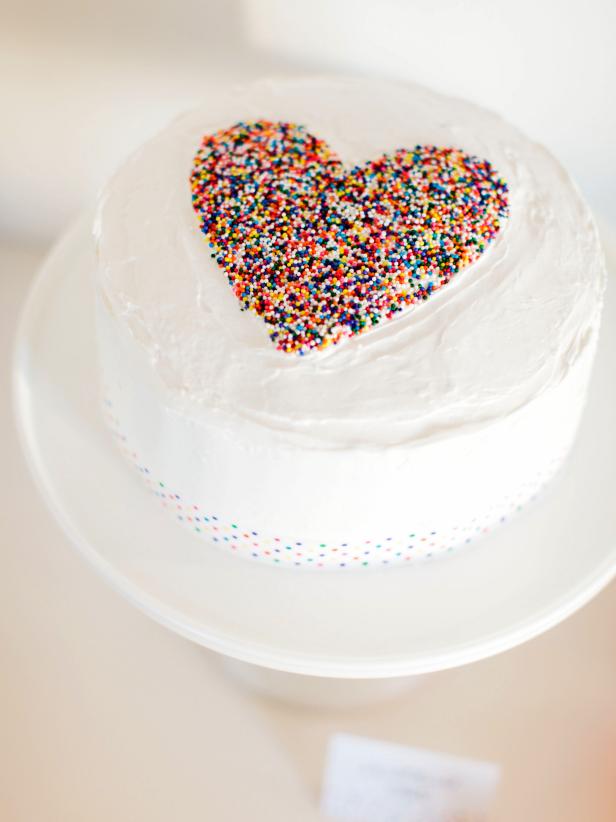 No matter which cake you decide to bake, you can add a little bit of love to it by adding sprinkles to it. Not only that, but you're adding the sprinkles in the shape of a heart. So, check it out on the DIY Network so you'll know how to do this. 
15. Giant Donut Cake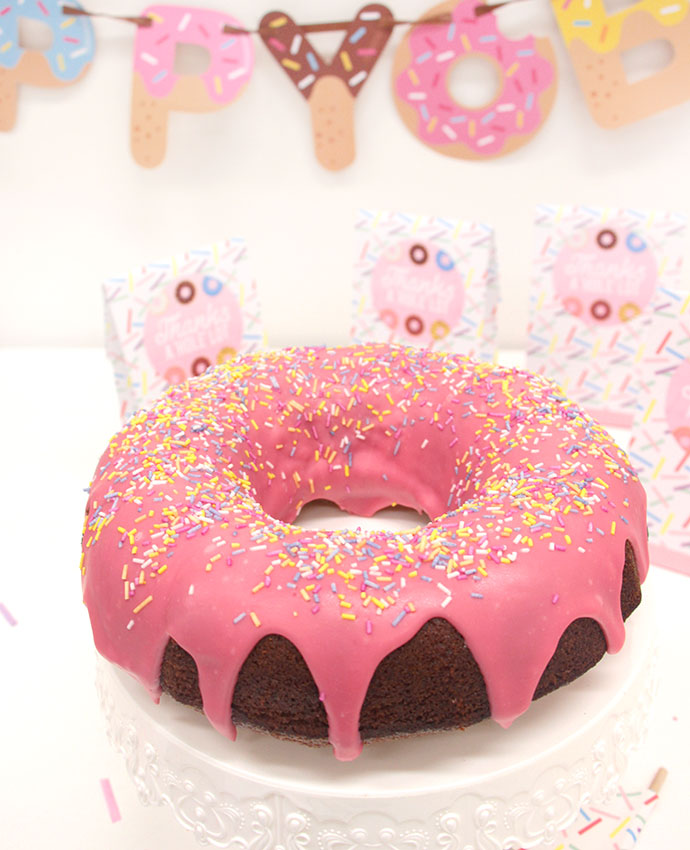 Although it looks like a donut, it doesn't mean it's going to taste like one. It will be delicious, nonetheless! Check out how to make a beautiful giant donut cake from Party Delights! 
16. Crepe Cake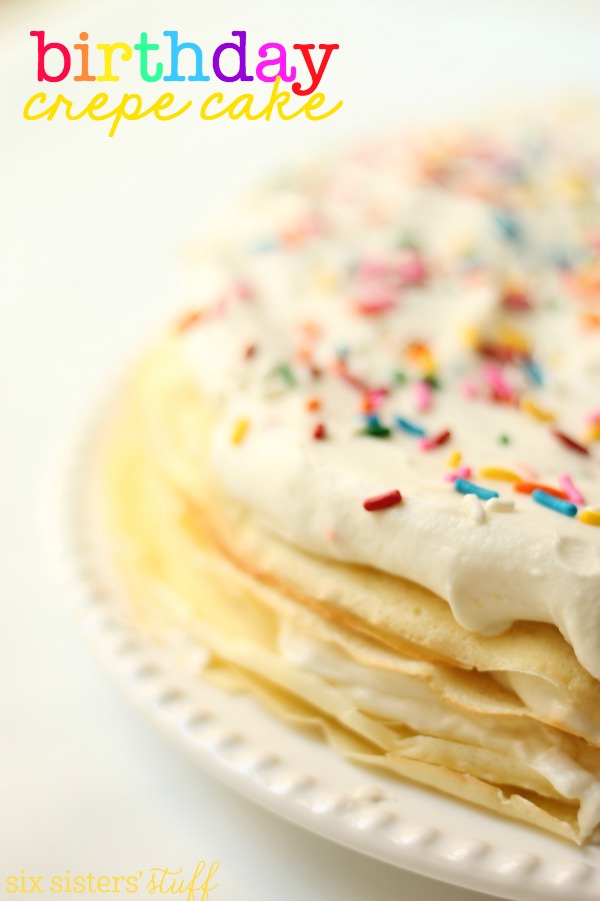 If your girl loves crepes, then a crepe cake will be the perfect birthday cake recipe to go for this year. Add in a few sprinkles to make it more festive and just enjoy an easy to make deliciousness. Get the recipe from Six Sisters' Stuff.
17. Heart Cake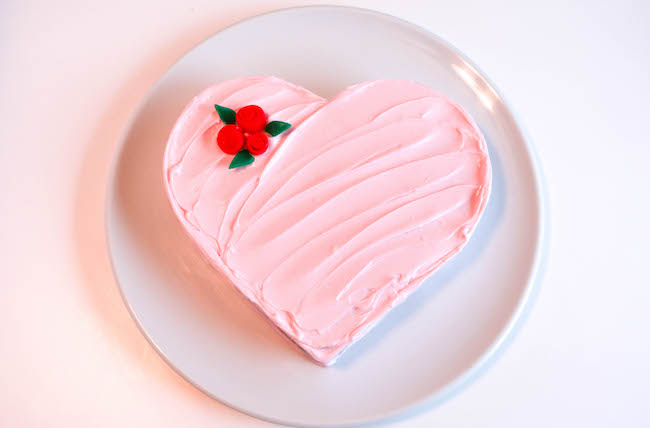 Over on Craftsy you can learn how to make a cute and easy heart-shaped cake for your pink-loving little girl. It's easy to make and it's going to be absolutely delicious!
18. Butterfly Cake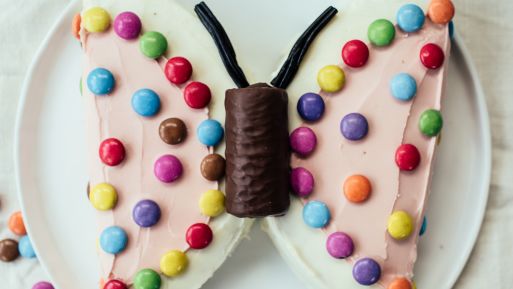 Who doesn't love butterflies? If your girl particularly loves these beautiful creatures, then you need to make her a cake! Get the easiest recipe ever from Food.com.
19. Strawberry Basket Cake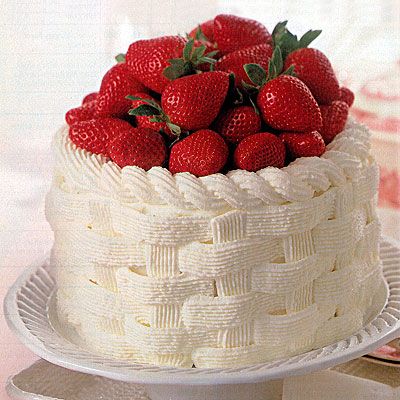 Over on Country Living, we found this delicious looking strawberry basket cake recipe that will have you wanting to gobble the whole thing up. Learn how to make your own by following their guide. 
20. Unicorn Cake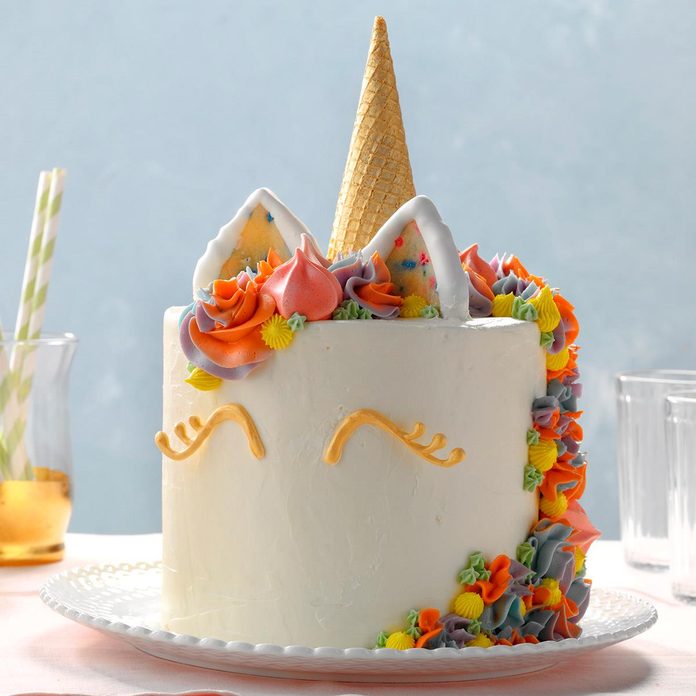 Making a unicorn cake is easier than you think and it's certainly going to make your little girl absolutely happy to have such a beautiful birthday surprise! Learn how to make a unicorn cake from Taste of Home. 
21. Candy Land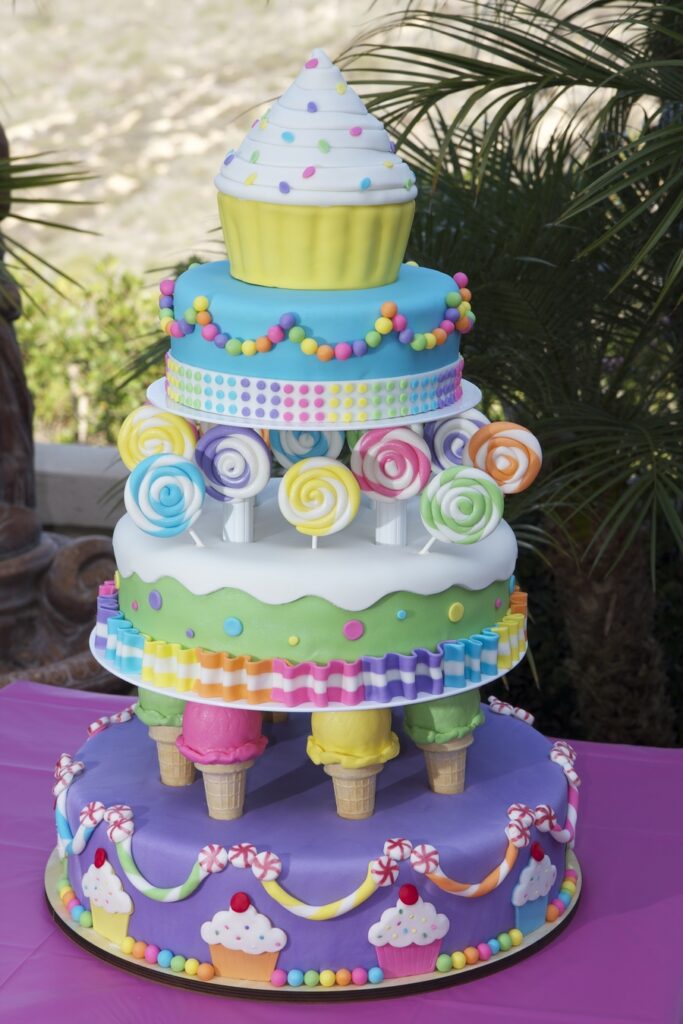 If you want to go all out, then this candy land cake will be the right recipe for you. It has candy, it has color, it has fondant, and it some really cool lollypops. It looks like a dream come true. Get inspired from Cake Central. 
22. Cutest Owl Cake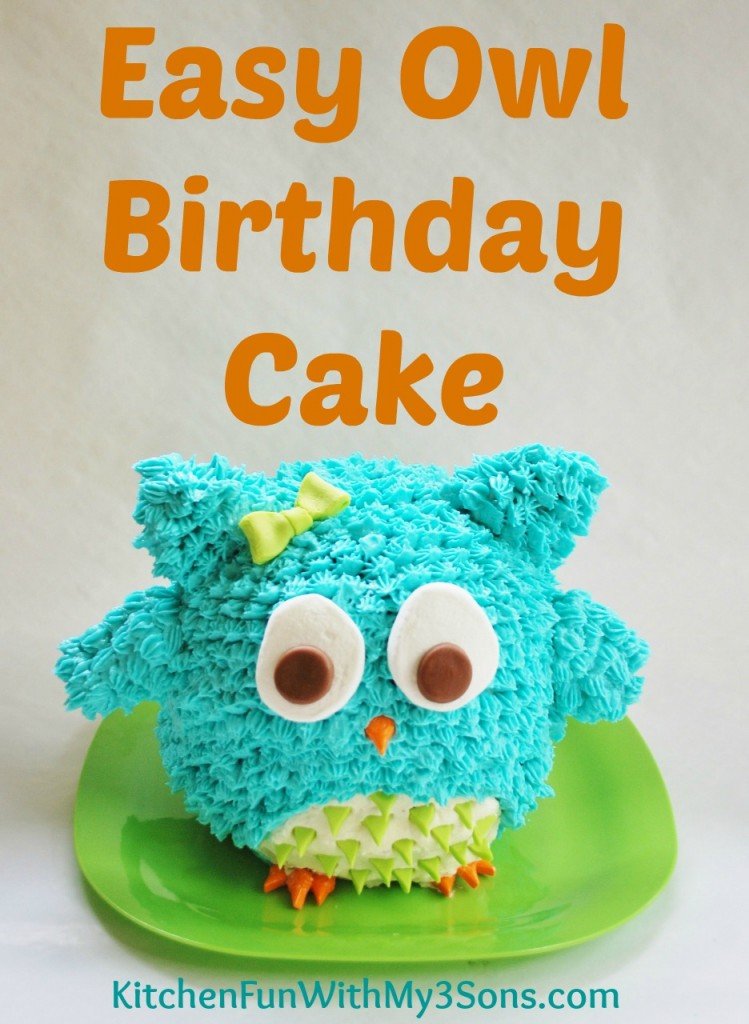 Owls are always adorable, but this blue owl cake is next level beautiful. It needs a lot of attention, but with patience, you can make your own owl for the birthday girl! Get the recipe from Kitchen Fun.
23. Mermaid Cake
Oh! A mermaid cake! Look how beautiful this creation is! Your mermaid-loving little girl will love this treat on her birthday and her friends will certainly talk about it for a long time. Learn how to make this Ariel-inspired cake from My Kids Lick the Bowl. 
24. Marshmallow Cake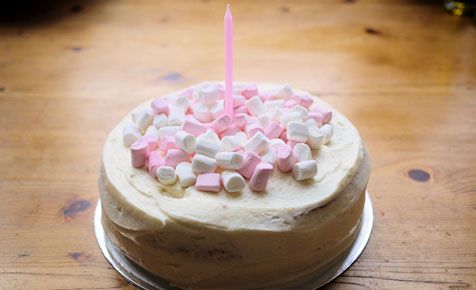 Who doesn't love marshmallows? We know we do and this really cute marshmallow cake will make any little girl happy, especially since it's pink and lovely! Learn how to make your own from Kidspot. 
25. Fox Cake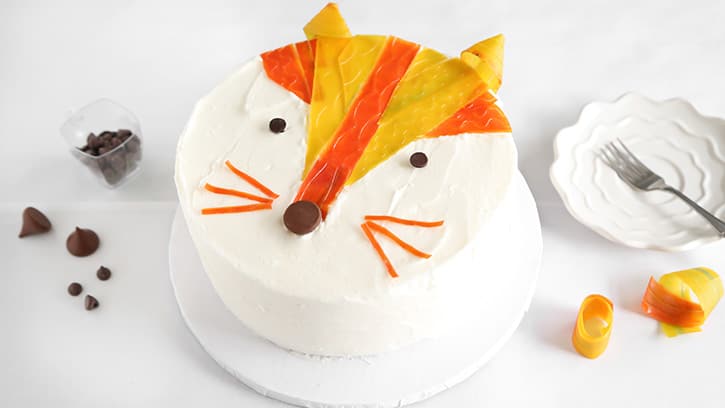 What does the fox say? It says we're old, that's what it says. Anyway, this really cute design comes from Betty Crocker and it will teach you how to create a fox face on pretty much any cake you want. They have all the details that will make this design a success!
26. Fairy Princess Castle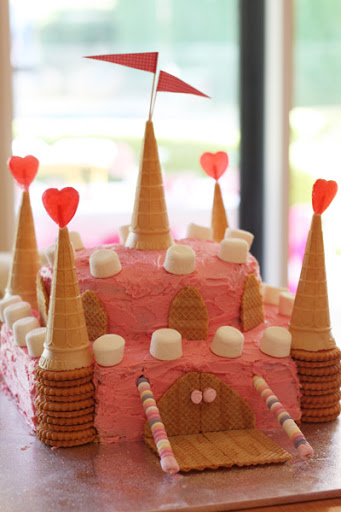 Castles are always lovely and a lot of hard work, but your little birthday gal is worth it. You can get inspired to make your own 3D castle cake by following their guide – it involves ice cream cones, lollipops, marshmallows, wafers, and candy for decor, so you know it's going to be super sweet and super yummy. 
27. Fish Cupcake Cake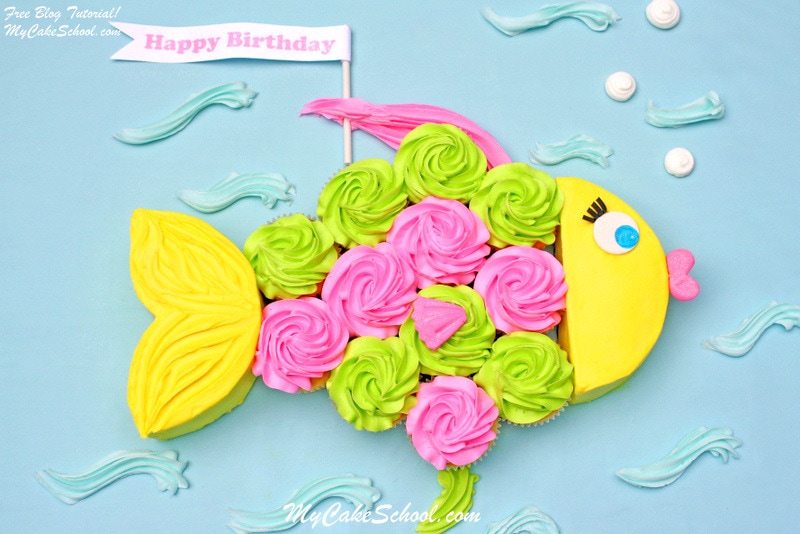 This has to be the cutest fish-shaped cake we've ever seen! If your little girl loves cheerful fish made with swirly cupcakes. Learn how to make one from My Cake School. 
28. Vanilla Buttercream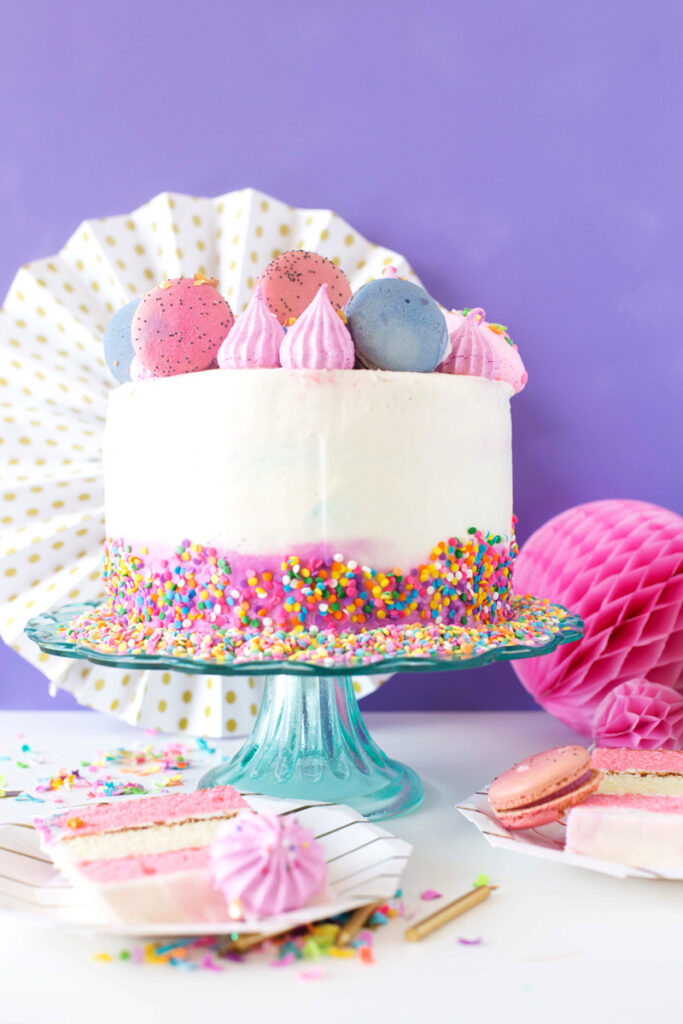 This breathtaking vanilla buttercream cake looks absolutely delicious but it's so pretty you'll have a hard time cutting into it. Get the recipe and a step-by-step guide from A Subtle Revelry. 
29. Red Velvet Snowball Cake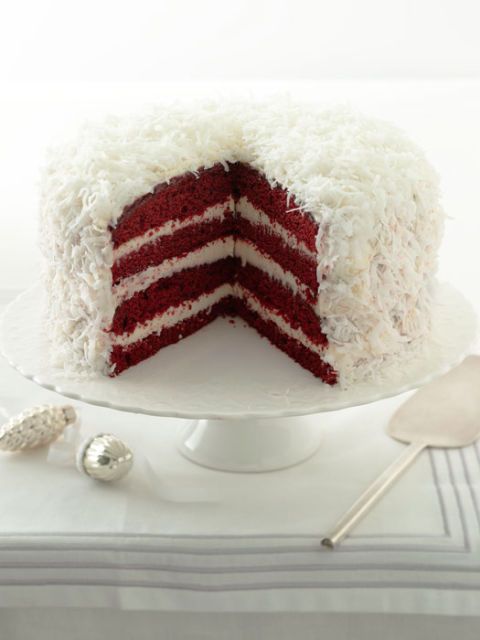 If your little princess was born in the winter, then perhaps a snowball cake will do just fine. Plus, it's red velvet, so you know it's absolutely delicious! Learn how to make it from Country Living. 
30. Pinata Cake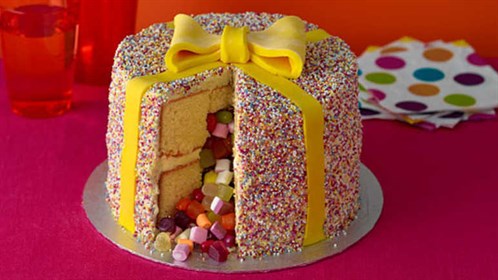 Pinatas are always fun, but what if we made a pinata cake? We think that's a wonderful idea and your kid will certainly be super surprised to find all these delicious sweets inside their birthday cake! Get the video guide from Baking Mad.
31. Candy Land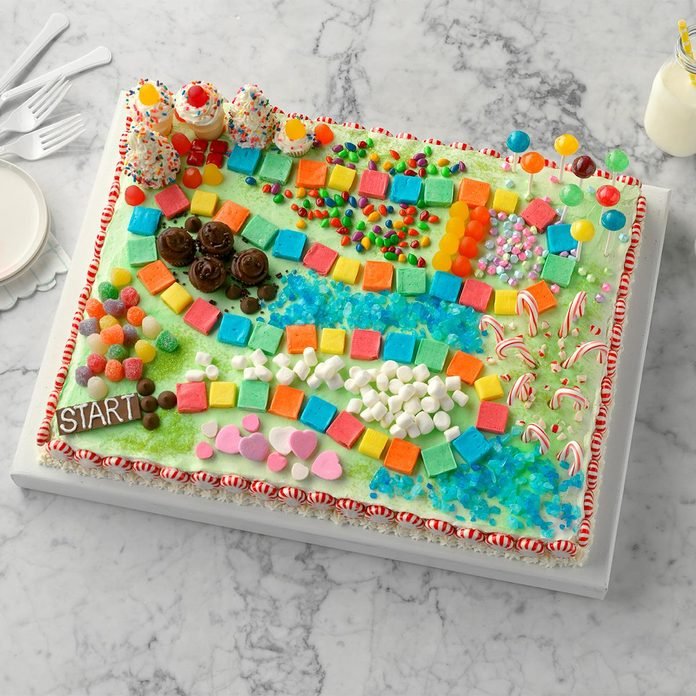 How about we create a candy boardgame on the cake? We think that's an awesome idea that will make it fun for the kids even before you cut into the cake. Get the recipe from Taste Of Home. 
32. Raspberry Cake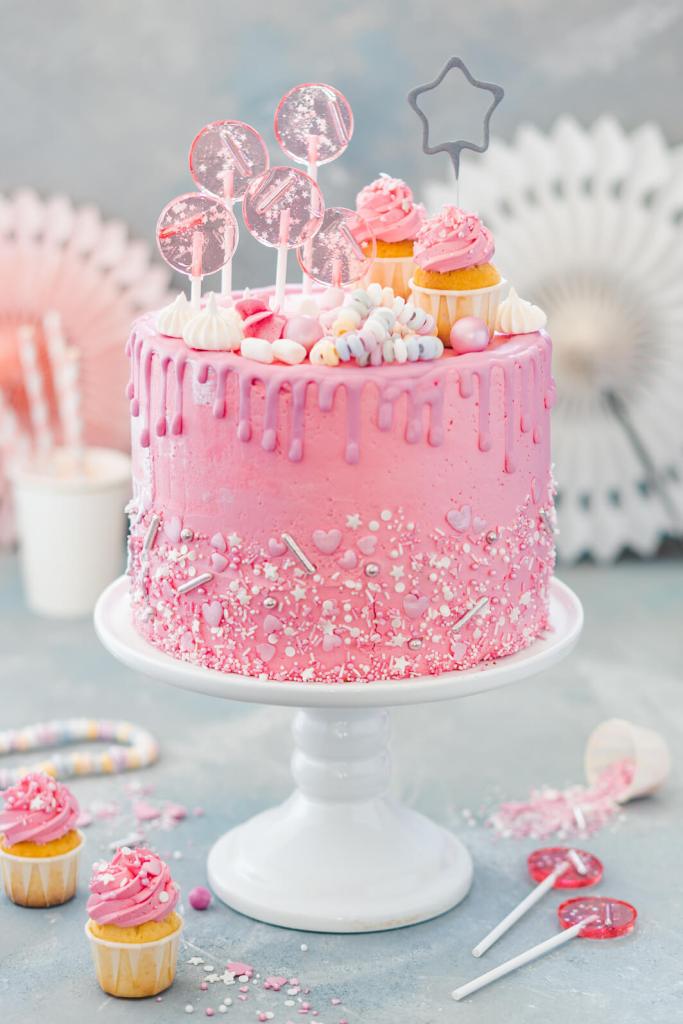 This next cake is absolutely delicious and looks extraordinary, so go ahead and get directions on how to make it yourself. Since the recipe is in German, you may want to right-click on the page and tap "translate to English" in your browser. You'll get all the details on how to create a cake that's just as beautiful and just as yummy. 
33. Pink Unicorn Cake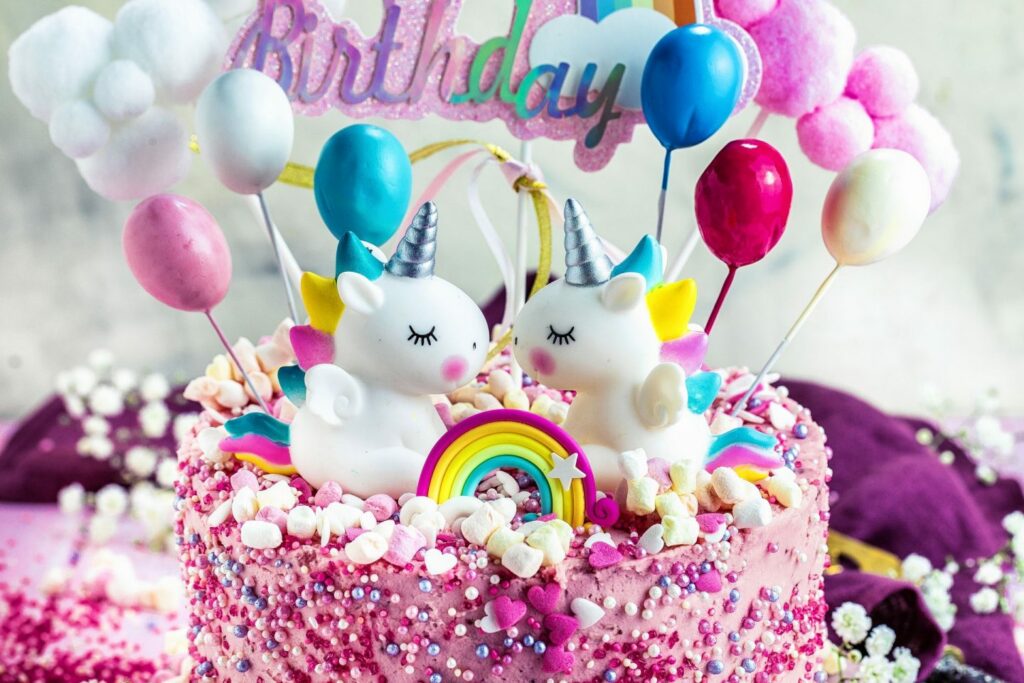 Unicorns are just irresistible, aren't they? And look at this cake! It's impossible not to love it! Not only that, but it's absolutely delicious as it features a mascarpone and strawberry jam cream. Yummy! Get the recipe from Dot's Mom and be aware that the page is in German, so once more right-click on the page and choose 'Translate to English'. 
34. Number Cake
Number cakes are all the rave and they usually have all sorts of additions to make them pretty, but this one is completely covered in M&Ms which makes this one look so cute. Sure, it's going to take a while to create this, but it's absolutely worth it!
35. Rainbow Cake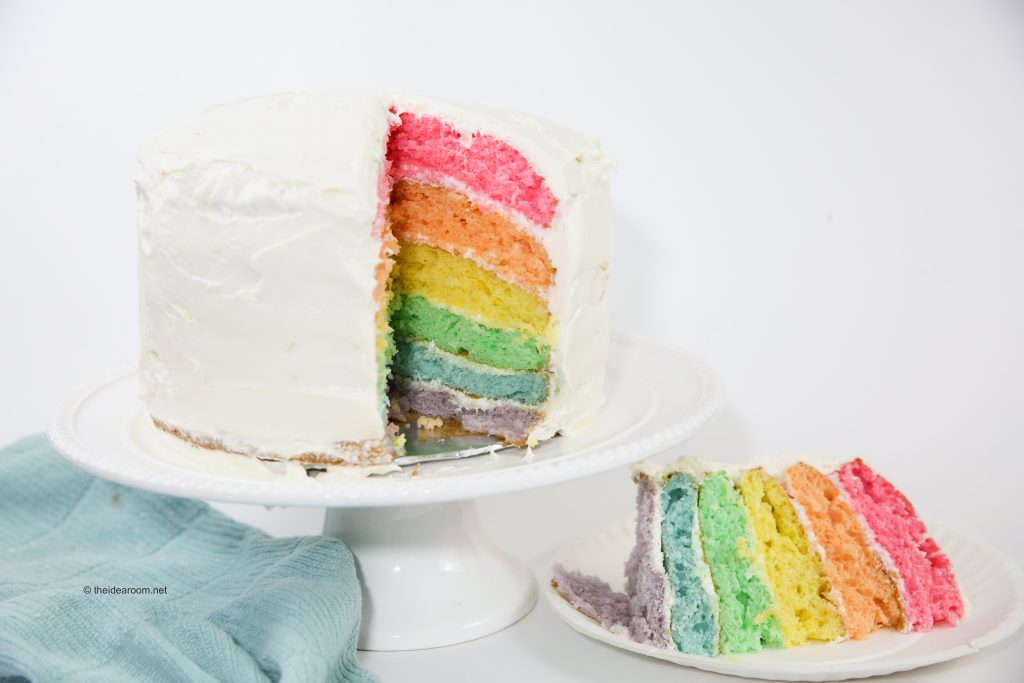 Creating a rainbow layer cake may be the perfect addition to your little girl's birthday party. It looks sensational when you cut through it and it's going to be a really cute surprise for all the guests. Get the guide from The Idea Room!
36. Coconut Angel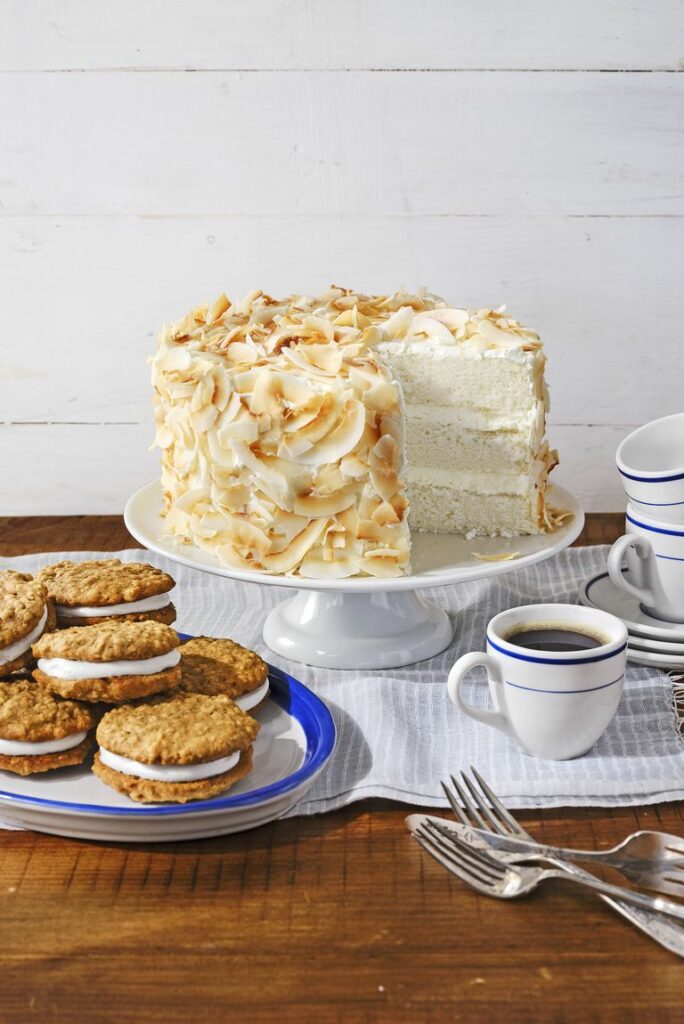 If your kiddo loves coconut, then this cake is the right choice! It may not be pink and it may not be sparkly, but it's absolutely delicious and looks beautiful. Get the recipe for this coconut angel cake from Country Living. 
37. Homemade Butterfly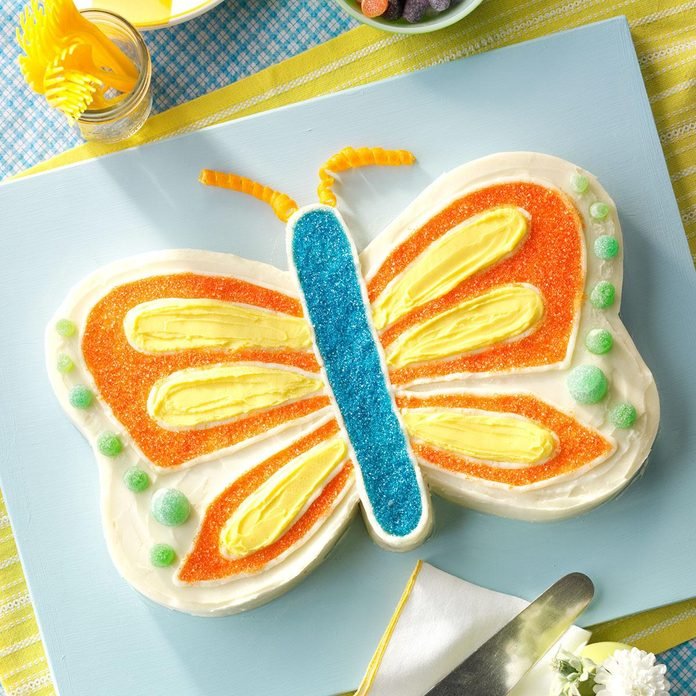 All kids love butterflies, and this cake idea is absolutely wonderful, bringing in color and texture and mixing them in a design that your kids won't wait to dig in. Get the recipe for this butterfly cake from Taste Of Home. 
38. Raspberry Pink Cake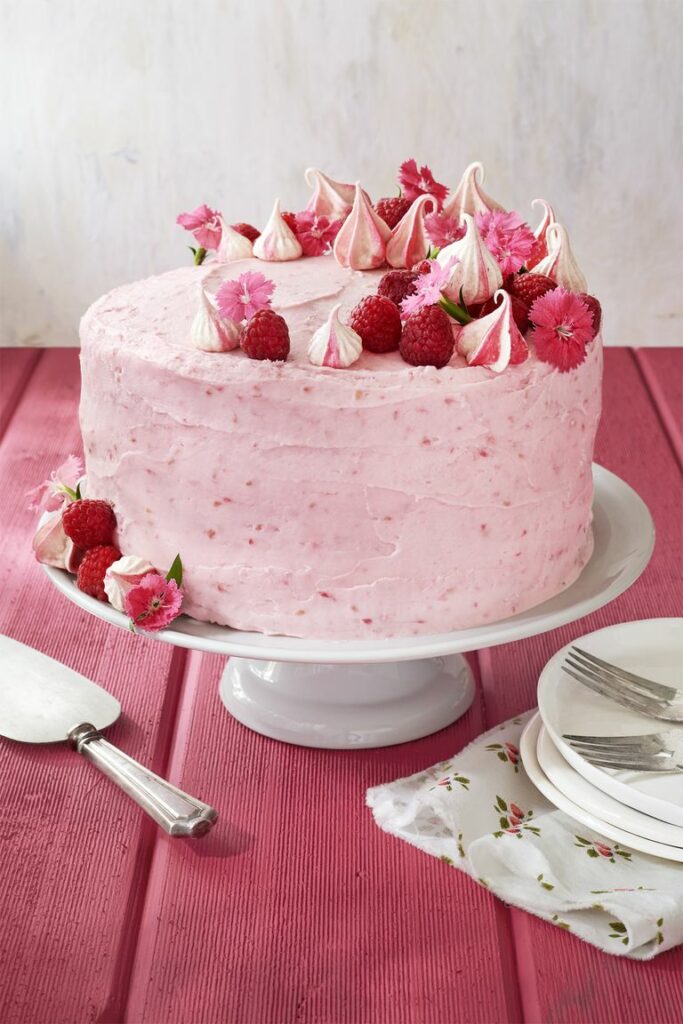 We have this next cake on the list, a raspberry pink cake that is breathtaking to look at and delicious to taste. It will be a showstopper at the birthday party and everyone will love it. Plus, your daughter will be grateful for making this. Get the instructions from Country Living. 
39. Pinata Cake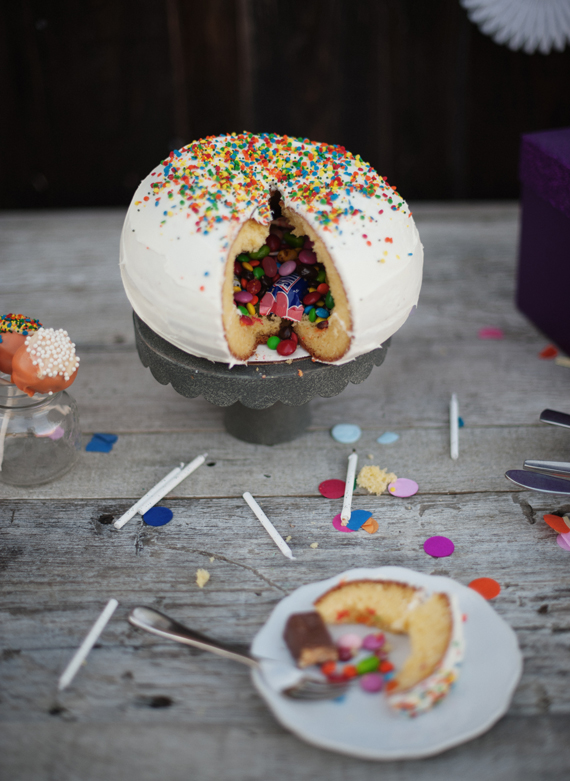 Filled with jelly beans and candy bars, this next pinata cake will make you want to cut into it faster than originally planned. It's going to be a fun cake to serve and we're sure the kids will have a blast! Get the recipe from A Subtle Revelry. 
40. Kids' Birthday Cake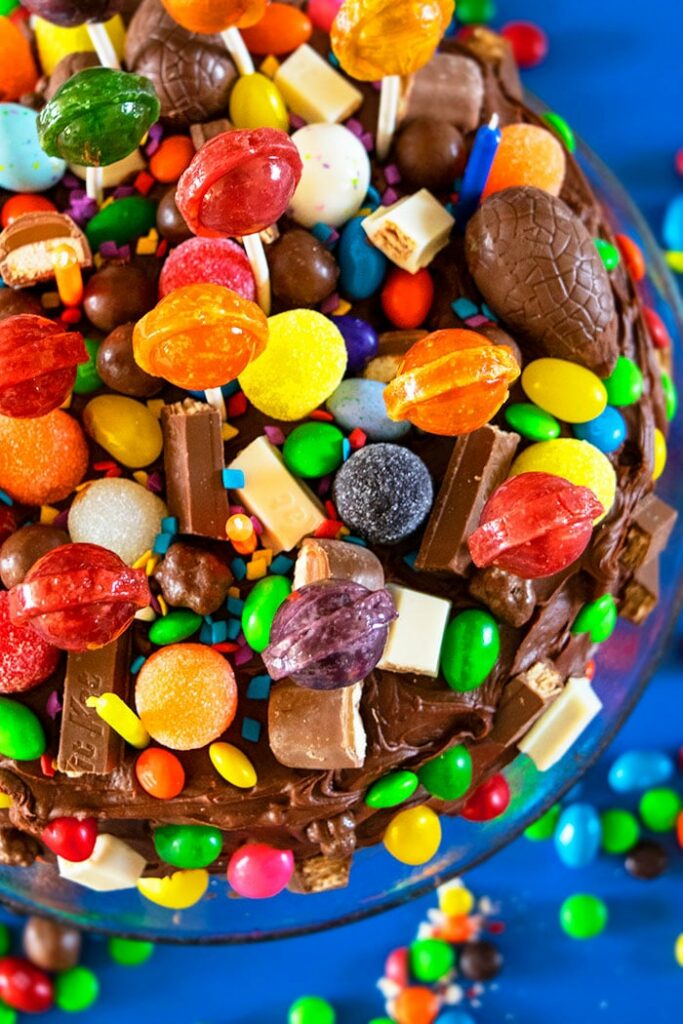 The folks over at cakewiz don't just tell you how to make one cake, they tell you how to make any cake the perfect recipe for your girl's birthday party, with lots of decoration suggestions and plenty of other info. Look at this beauty! Go give it a try!
41. Banana Smash Cake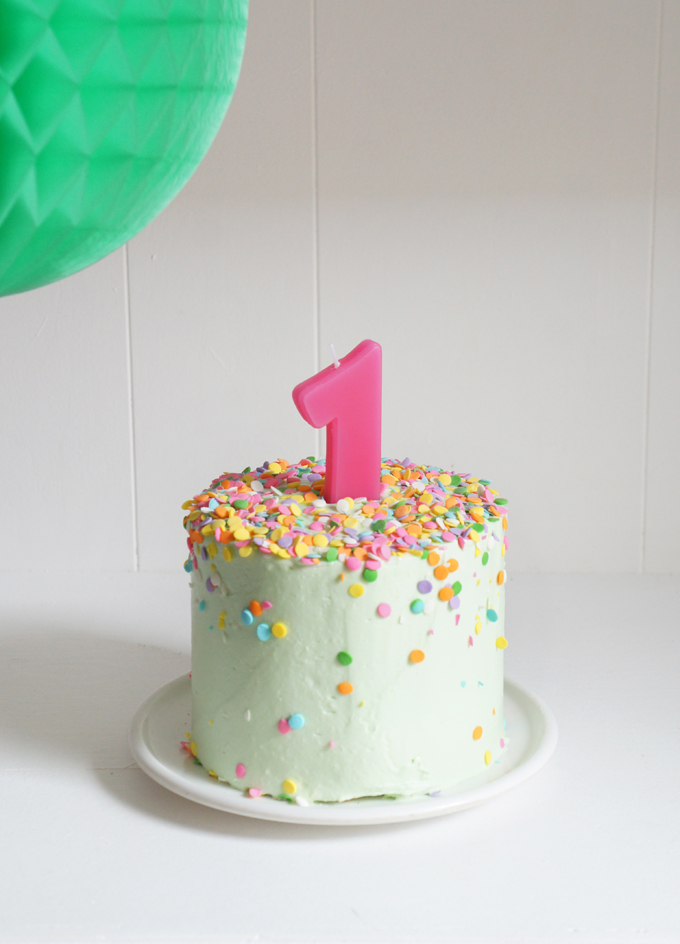 Some cakes are clearly made for older tots, while others are for the very first birthdays. This banana smash cake is perfect for those just celebrating their first birthdays – perfect because they get to smash their hands right into it and grab the deliciousness with their hands. Get the recipe from Sugary and Buttery. 
42. Apple Spice Cake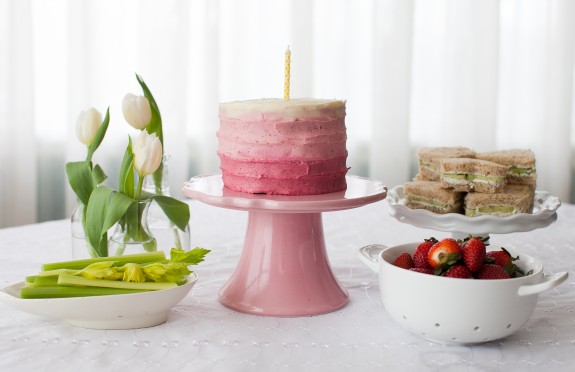 Up next we have a delicious apple spice cake that you'll want to create for the kid's next birthday. The ombre layers are absolutely adorable and you'll want to dive into it as soon as possible. Get the recipe from Simple Bites. 
43. No-Bake Cheesecake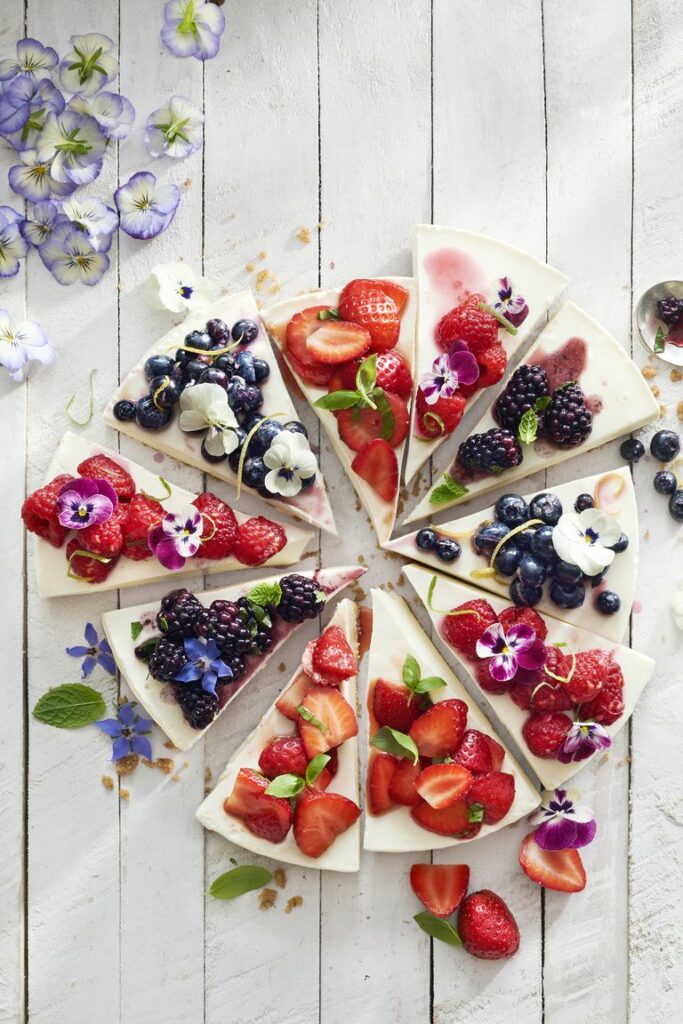 For the older girls, you can make a no-bake cheesecake with fruits that's going to be absolutely delicious. It may not look as impressive as some other cakes, but it's going to be a delight! Get the recipe from CountryLiving.
44. Sunny Flower Cake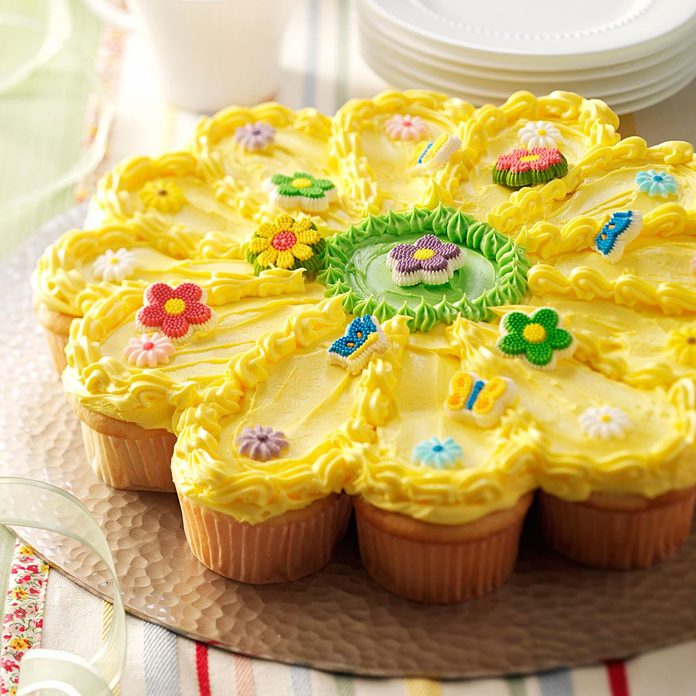 This impressive sunflower cake is absolutely adorable and certainly delicious. Even better, the kids get to pull it apart because it's made out of cupcakes! Get the recipe from Taste of Home. 
45. Igloo Cake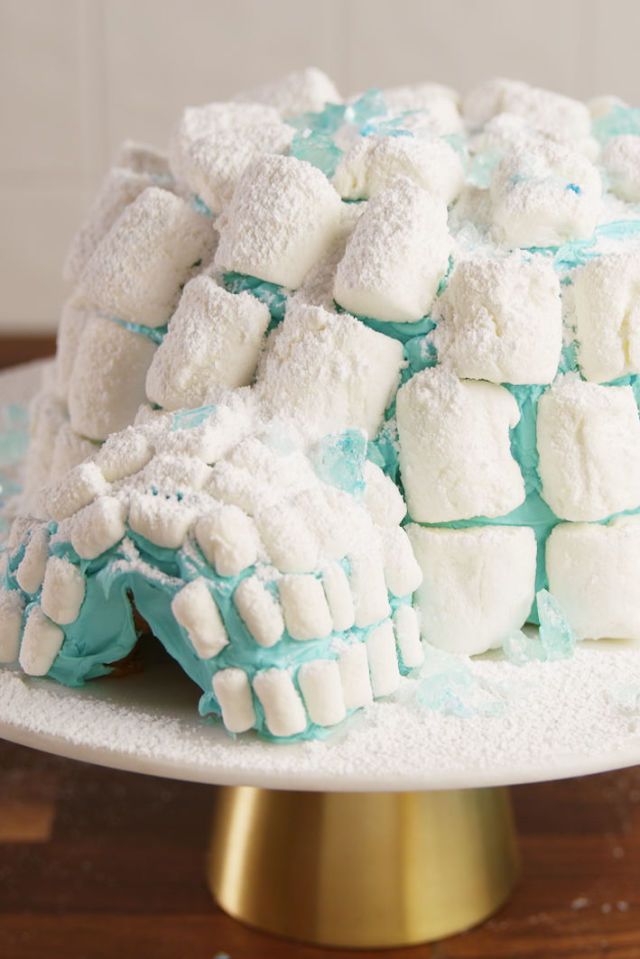 Is your little girl impassioned by igloos, snow, and everything about the North Pole? Well, why not make her an igloo cake? It's so cute and you can even use some of her own toys to decorate it! Get the recipe from Delish!
46. Rainbow Cake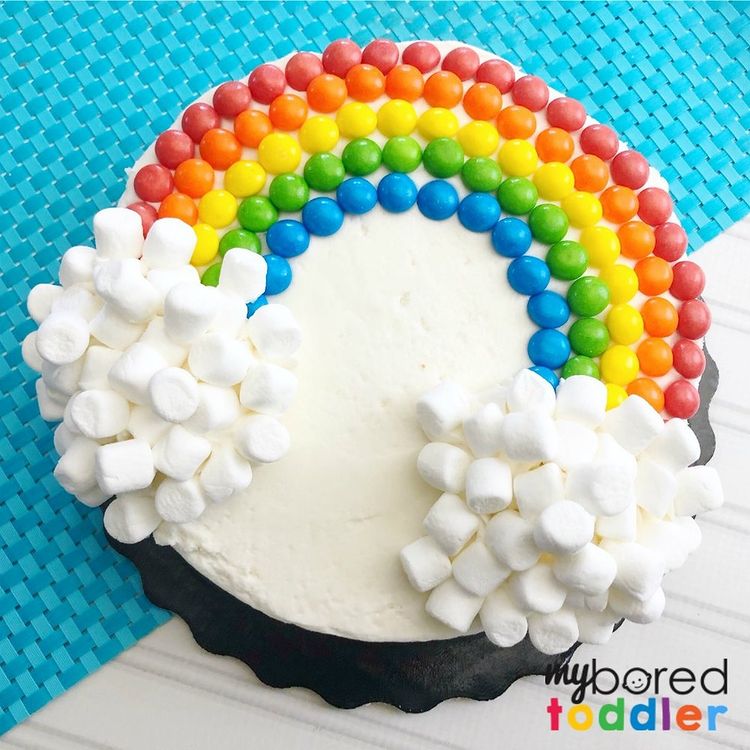 Over on Instagram, we found this really pretty rainbow cake with marshmallows and skittles. It's going to be a hit with kids since rainbows are easy to love and they come with their own dose of magic. Get the recipe from @myboredtoddler on Instagram. 
47. Galaxy Cake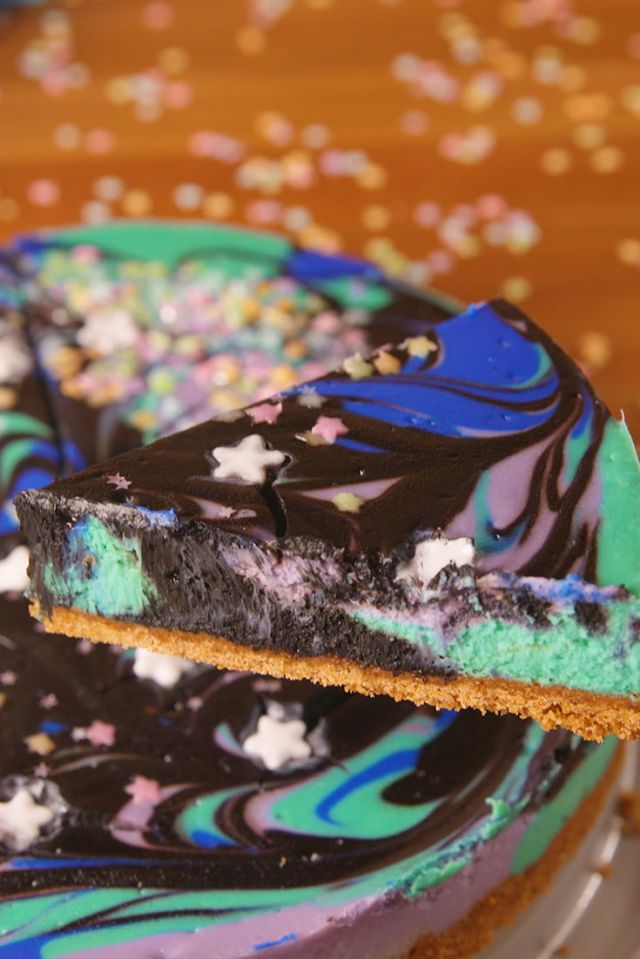 If your child is passionate about space, then a galaxy cheesecake will do just fine for their birthday! Let's figure out how to make this really beautiful birthday cake by following the recipe on Delish. 
48. Speckled Malted Coconut Cake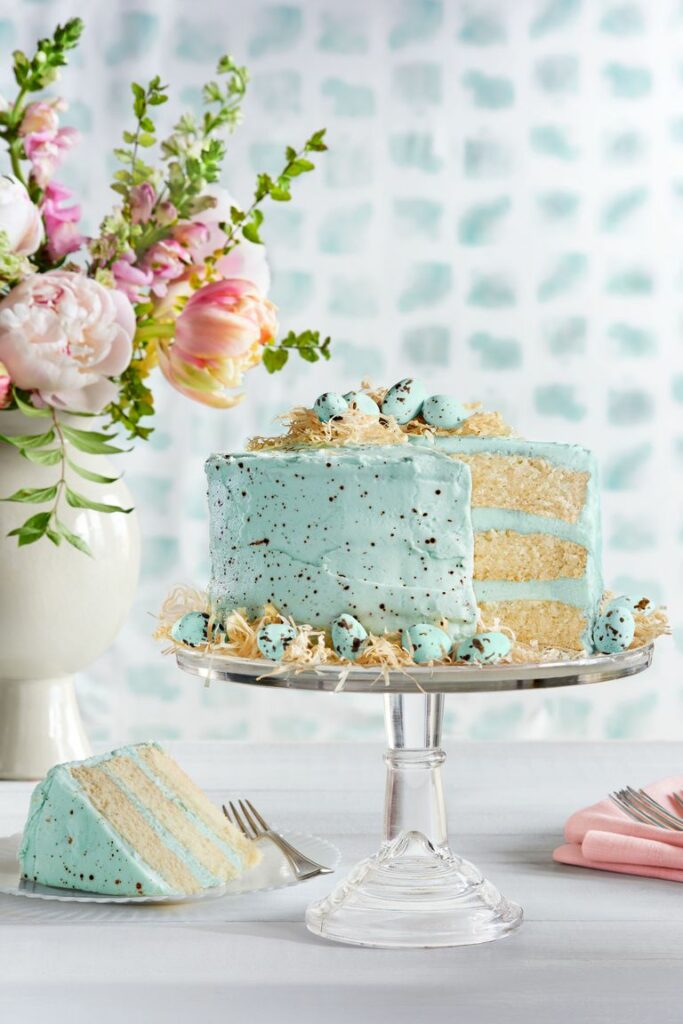 If your little girl is as in love with this shade of blue as we are, go ahead and make this. Plus, it's absolutely delicious so it will be gone before you even know it! Get the recipe from Country Living. 
49. Swiss Meringue Fresh Fruit Cake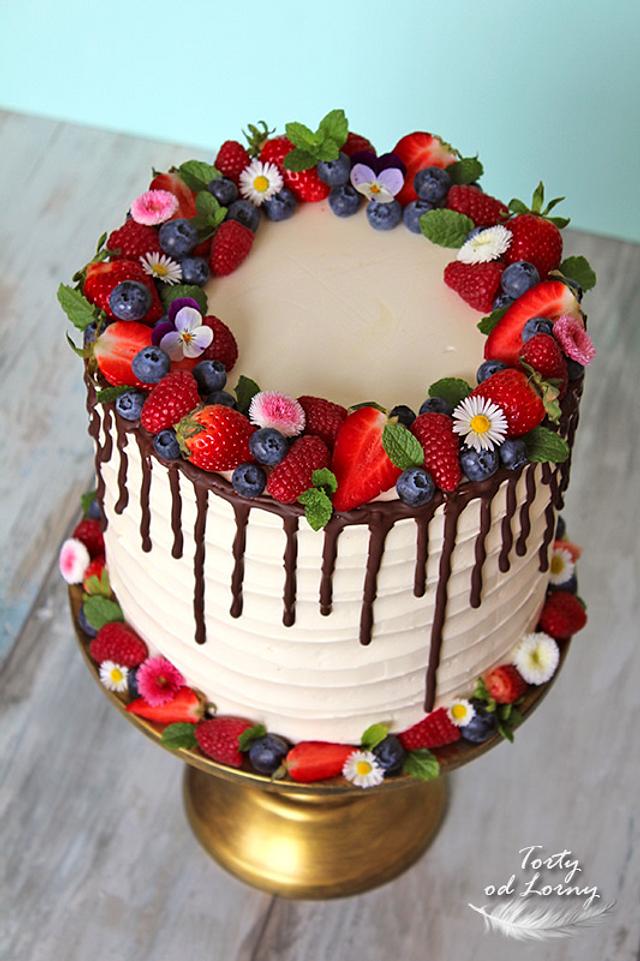 Who doesn't love fruits and chocolate? We really don't know anyone to fit that description and we're sure your girl doesn't either! Look how pretty this cake is and imagine how their eyes will light up when you present it to them on their birthday! Learn how to make it by following the recipe from CakesDecor. 
50. Numbered Cake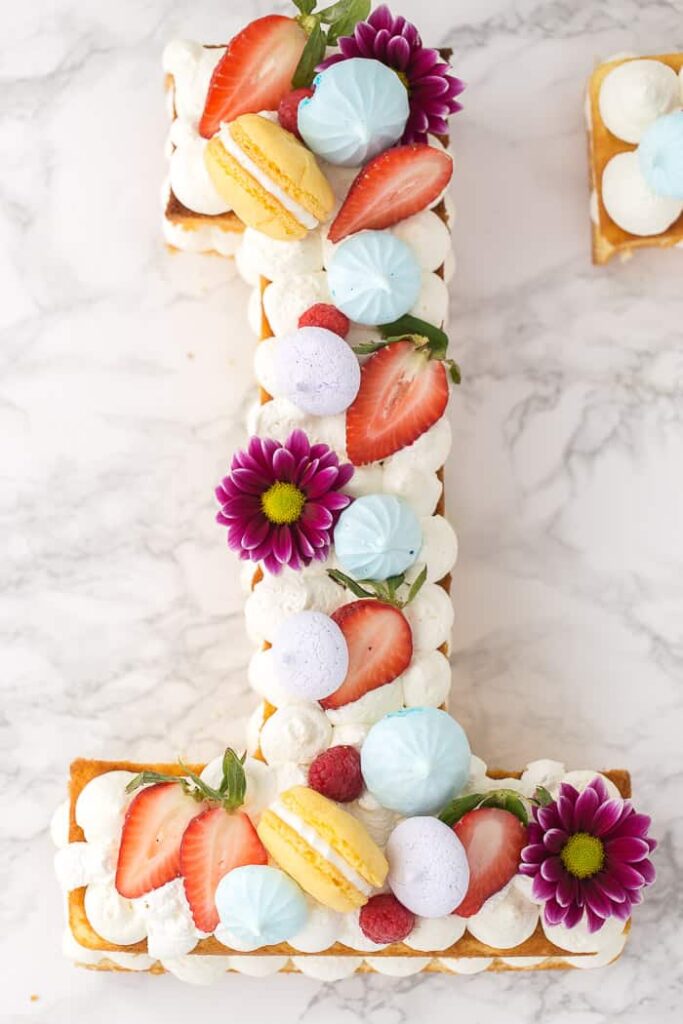 A classic number cake will also be perfect for your child's birthday! It features fruits and candy and other yummy and beautiful things as toppings. The cake itself is yummy and light, not overwhelmingly sweet, making it perfect for kids. Get the details from A Classic Twist. 
Final Thoughts 
There we go, folks! Do you have enough ideas for your girl's next numbered cake? We know we have quite a few stored for the years to come. We'll even make some of these in-between birthdays, just because they're delicious and beautiful. Drop us a line and tell us which cake you're making next!