Les visites au musée Madame Tussauds peuvent être
incroyables – c'est un peu comme voir toutes vos célébrités favorites au même
endroit, figées dans le temps.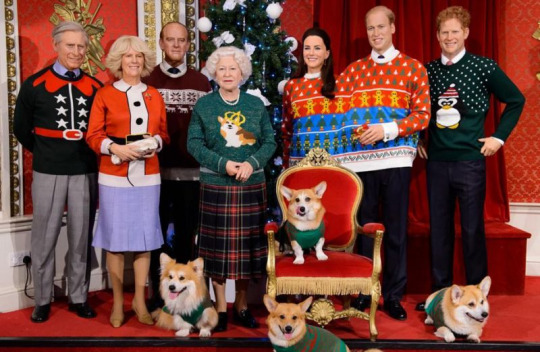 [Photo : Instagram/madametussauds]
Et cette année, le musée de cire a décidé de rendre les
choses un peu plus festives en habillant ses statues avec des tenues de Noël, y
compris la famille royale.
La galerie a décidé de les vêtir de fameux pulls de Noël
– et le résultat est assez troublant.
Doing finishing touches to the Royals in their @savethechildren Christmas jumpers 🎄 Kate and Wills are inseparable ❤️ The Queen's amazing corgi jumper was designed and made by @amberhards #madametussauds #bestjobever • • • • • • • #theeverygirl #instagood #instalike #instadaily #instalove #picoftheday #thehappynow #theeverydayproject #lovelysquares #mybeautifulmess #lovethelittlethings #flashesofdelight #theinstagramlab #alittlebeautyeveryday #littlestoriesofmylife #verilymoment #momentsofmine #persuepretty #thatsdarling #acolourstory #abmlifeiscolourful #christmas #christmasjumper #christmasjumperday
Retouches finales de la
famille royale dans leurs pulls de Noël pour @savethechildren 🎄 Kate et Will sont inséparables ❤️ le superbe pull corgi de
la Reine a été créé par @amberhards #madametussauds #bestjobever • • • • • • •
La Reine, par exemple, porte un pull en laine vert à
l'effigie d'un corgi portant une couronne, et le prince Harry porte un très
joli pull avec un motif pingouin.
Et les corgis, bien sûr, portent chacun leur propre pull.
Toutefois, le plus étrange de tout reste le duc et la
duchesse de Cambridge – qui portent un pull en laine spécialement conçu pour
deux, faisant d'eux une seule personne.
Alors que les visiteurs du musée Tussauds ont l'habitude
de voir Kate Middleton porter une robe mi-longue bleu marine, et William porter
un costume, ce pull de Noël criard vert et rouge représente un sacré
changement !
We really want to believe that this is how Prince William and the Duchess of Cambridge spend Christmas Day 🎄 🎅 ⛄ #thismorning #princewilliam #duchessofcambridge #katemiddleton #christmas #christmasjumpers #savethechildren #christmasjumperday #royal #royalty #royalfamily👑
Nous voulons croire
que c'est ainsi que le Prince William et la duchesse de Cambridge passeront le jour de Noël.
Mais que cette image nous donne des frissons ou non,
sachez que c'est pour la cause – pour célébrer la collecte du Jour du pull de Noël de Save
The Children U.K, qui
aura lieu le vendredi 16 Décembre.
« Nous sommes ravis de soutenir Save The Children en
faisant participer, d'une manière élégante, nos statues de cire à la campagne du
Jour du pull de Noël », a dit à People
Edward Fuller, directeur général du musée Madame Tussauds de Londres.
Helena Wiltshire, présidente du PR de Save the
Children, a ajouté : « Qui sait, peut-être que cela va inspirer la reine
et qu'elle fera son discours dans une tenue plus décontractée cette
année ».
Peut-être,
mais nous pensons qu'il y a peu d'espoir.
Alice Sholl